Stunning update from SAP Analytics: We now have an SAP Analytics Cloud Mobile App for Android. This is the first release of SAP Analytics Cloud Mobile App for Android and can be downloaded from the Google PlayStore by searching for "SAP Analytics Cloud".
---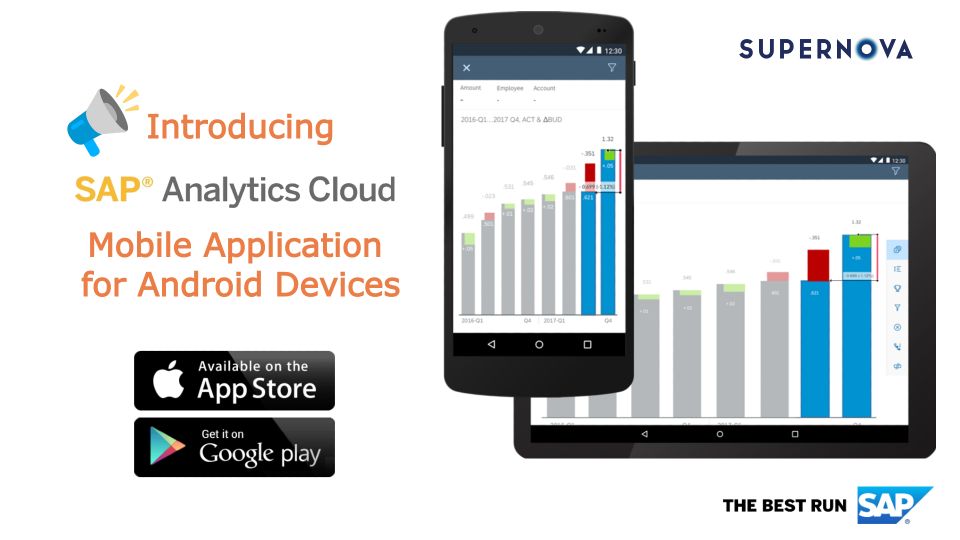 As a prerequisite, you need to have a supported Android device with Android 9.0 or later with more than 4GB of RAM. Refer the help guide for details on the supported device.
Once you have the app installed on your Android device, you need to be a user on an existing SAP Analytics Cloud (SAC) tenant in order to begin viewing stories.  Customers on Fast Track SAC tenants (with Wave 2020.03) can already access the stories by connecting to their tenants from the app. Quarterly Release Cycle (QRC) customers can start accessing their tenants from Q2 QRC release onwards.
---
With the mobile app, you can connect to your SAP Analytics Cloud tenant and view a list of stories created with responsive layout (that you have permissions to view).  This includes stories based on both live and acquired data connections supported in the SAC Mobile app. You can sort the list of stories by Name and Last Changed date or apply predefined filters to the list like 'Shared with Me' or 'Favorites'.  If you know the name of the story you wish to view, you can also search for it using the search bar.
To view a story, simply tap the story to open.  The story's layout will automatically adapt to the device's size, making it easier to view and understand the analytics displayed.  For instance, the story may be designed like a grid (of charts), however on a mobile device, you will see the charts displayed linearly, one after another.  You can swipe to go through all the pages in the story or use the drop-down bar on the top to skip to a desired page.
---
There are multiple ways to interact with the story & visualizations:
Get additional details by tapping on the specific visualization.
Find the difference between two data points by simply tapping them both.
Apply ranking to a visualization like Top 5 or Bottom 5.
Drill up and down on the data points with underlying hierarchies.
Filter and input controls are accessed through the filter icon in the top right of the display.
Another stunning feature is the ability to access the saved bookmarks. In case you have many bookmarks that you have saved in SAP Analytics Cloud, you can easily access those from the device by tapping on the bookmark icon on the top. Many users really use this bookmarking capability for easy and faster access to stories in a certain state.
The Mobile Application has an additional security feature that leverages an application-specific password that is separate from your SAP Analytics Cloud password.  It is enabled by default and you can create your own application password.  There is also a profile setting, where you can disable the app password (in case it's also disabled on the tenant). For SAP Analytics Cloud authentication, the app supports Single Sign On (SSO) via certificate, making it easier for users to automatically log in to their SAP Analytics Cloud tenant.
We will also be adding new features and capabilities with Fast Track and Quarterly releases, please stay tuned for future roadmap updates. Also, refer to the Help "Android Mobile App Feature Compatibility" specifically on detailed feature level support.