Business Intelligence
Available on premise or in the cloud, our business intelligence tools put actionable information at users' fingertips. Use our BI tools to eliminate guesswork, monitor key metrics, and gain valuable insight into customer behaviour.
BUSINESS INTELLIGENCE SOLUTIONS
SAP® BusinessObjects™ Business Intelligence (BI) solutions can empower your teams to achieve remarkable results by allowing anyone in your organization self-service access to relevant information. And by helping business users transform their decision making by providing fact-based, quality information regardless of where the data resides.
Supernova Consulting offers a broad portfolio of tools and applications designed to help you optimize business performance by connecting people, information, and businesses across business networks.
BI Enterprise Platform
Meet all of your strategic BI requirements on a single BI platform while ensuring delivery of the relevant information to people when and where they need it. Agile and dynamic organizations require decision making and innovation at every level. Therefore, your IT department must have a flexible means of sharing and making available business intelligence (BI) content throughout the entire organization – not just for selected processes, applications, or people. With SAP BusinessObjects BI solutions, your organization can provide relevant information to anyone – from the CEO to business analysts, field-based staff, suppliers, and partners.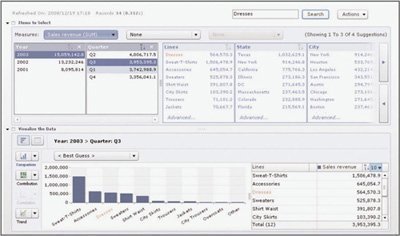 Solutions integrated into BI Enterprise
SAP BusinessObjects Integration:
Provide connectivity to information stored in enterprise applications and enable your organization to consolidate and transform vast amounts of data into reports, analyses, visualizations, and dashboards while helping ensure data security and compliance.
SAP BusinessObjects Live Office:
Deliver the most up-to-date information available in Microsoft Office documents and minimize time-consuming updates.
SAP BusinessObjects Analysis:
Self-service business intelligence tool that can enable your business analysts to analyze data across diverse data sources, determine trends, and predict potential outcomes. And make your information assets work for you – delivering meaningful, actionable insight and real value.
SAP BusinessObjects Dashboards:
Leverage a drag-and-drop dashboard and visualization tool that allows you to create dashboards with highly interactive analytics.
SAP BusinessObjects Explorer:
SAP BusinessObjects Explorer software, accelerated version, combines intuitive information search and exploration functionality with the high performance and scalability of in-memory analytics, so you can empower your organization and extend the reach of BI to all of your business users. With immediate insights into vast amounts of data from anywhere in the organization, you can explore business at the speed of thought – and improve your ability to make sound, timely decisions.
SAP BusinessObjects Web Intelligence:
Business users need answers to new and evolving business questions – without having to rely on IT help. SAP BusinessObjects Web Intelligence offers business users self-service access, ad hoc reporting, and intuitive analysis across heterogeneous sources, so you can turn data into actionable insights.
Small Business Solutions
Crystal Solutions:
Empower individuals in organizations of any size to discover and share insight for optimal decision making. With insight into every aspect of your business, you can monitor performance, identify opportunities for growth, and transform how you run your business.
Reporting: easily design and share interactive reports.
Dashboards: build engaging and actionable data presentations.
SAP Crystal Interactive Analysis: trusted ad-hoc query and analysis capabilities.
SAP BusinessObjects BI OnDemand:
A comprehensive software-as-a-service (SaaS) solution with an intuitive interface, allowing users to explore, report and share data anytime and anywhere that they can access the Internet.
Please contact us to discuss how we can help you your business with our Business Intelligence Solutions.