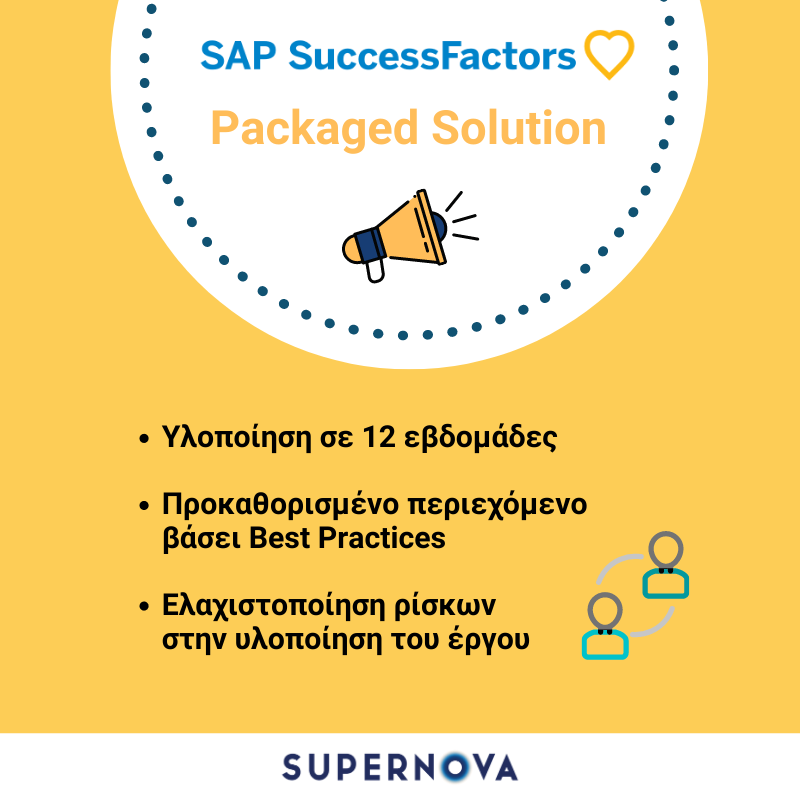 Ψάχνετε την ιδανική HR λύση για αυτήν την περίοδο, ώστε να συνεχίσουν τα άτομα του οργανισμού σας να είναι ενεργά και παραγωγικά;
Η Supernova Consulting έχει αναπτύξει και υλοποιήσει μία έτοιμη προκαθορισμένη λύση: SAP SuccessFactors®. Βοηθάει έτσι τις εταιρείες να επιταχύνουν την υιοθέτηση της λύσης στον βέλτιστο δυνατό χρόνο και με το μικρότερο δυνατό κόστος, σε ό,τι αφορά τις βασικές HR διαδικασίες στο Cloud.
Οφέλη
Γρήγορη υλοποίηση σε 12 εβδομάδες
Προκαθορισμένο περιεχόμενο (preconfigured content) βάσει βέλτιστων πρακτικών (Best Practices)
Ελαχιστοποιούνται τα ρίσκα στην υλοποίηση του έργου
---
Συμπληρώστε τα στοιχεία σας στη φόρμα αυτής της σελίδας & θα επικοινωνήσουμε μαζί σας για περισσότερες πληροφορίες!
---
[English Text Follows]
Are you looking for the ideal HR solution during this period, to keep your employees engaged and productive?

This standardized and preconfigured SAP SuccessFactors® solution, developed and provided by Supernova Consulting, helps companies accelerate the implementation for optimal time-to-value of their core HR processes in the Cloud.
Benefits
Quick deployment
Preconfigured content based on Best Practices
Reduces project risks
---
Register to the form on this page & we will get back to you with more info!
---