Human capital management and talent development is rapidly adjusting to the fast-paced contemporary rhythms of the business world. Since workforce planning, talent management, and operational efficiency have become much more demanding and challenging than it used to be in the past, one-dimensional workforce metrics fail to provide true insight that will help an organisation to thrive. One of the most important tools for HR professionals to be able to take fast and informed decisions is People Analytics. With the appropriate use of data, people analytics teams are able to understand the impact of people on business value and operations, by embedding analytics into real-time applications and study the processes, functions, challenges, and opportunities of the workforce. This why SAP SuccessFactors People Analytics has become a catalyst for optimising HR processes in particular and business workforce in general, driving performance and results with data-driven powerful and personalised insight. 
Analytic data provides all kinds of businesses with the necessary insights, tools, and information to successfully run and transform their organisations as well as to handle various different scenarios, including:
 
1. Workforce scenario
Questions such as: What is your actual headcount? What type of employees does your workforce include? How is this split by business unit, regions, or countries? 
Staffing shortfall does not merely affect revenue goals and net promoter scores but even determines them. It is therefore of vital importance to have access to real-time data in order to gain an overall knowledge of your employees' number, type, and role. SAP SuccessFactors offer automated data collection verification for a more insightful and reliable view of the company's workforce.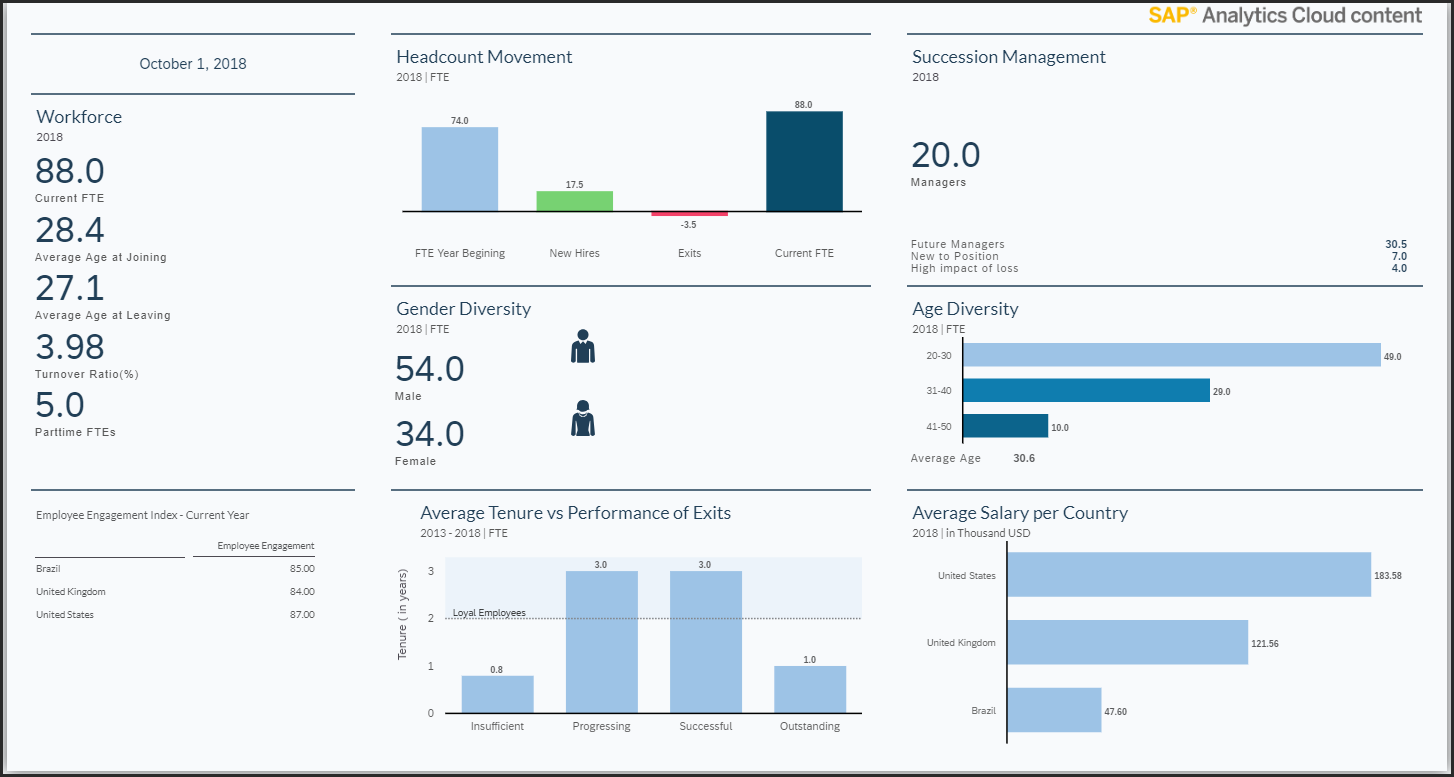 2. Talent scenario
Questions such as: How performance management stacks up in your workforce? Are you concerned about high performers who have held the same position for years and might leave because of the lack of career opportunities? 
Using people analytics to access a comprehensive library of metrics and benchmarks, an organisation can evaluate proposed candidate offers and counter offers as well as other considerations and possible promotions. In this way, top candidates and high performers are secured while they are given the right incentives to keep their performance ratings up.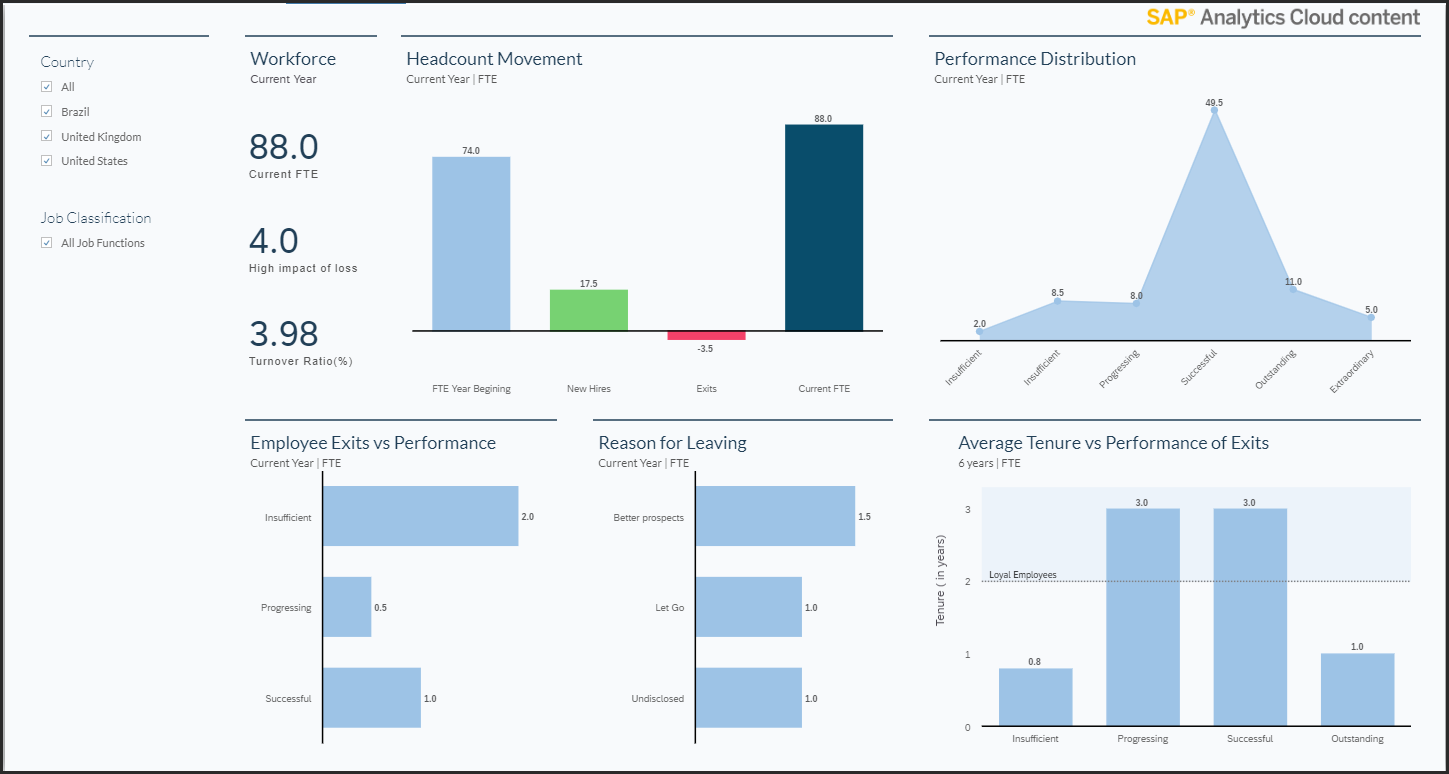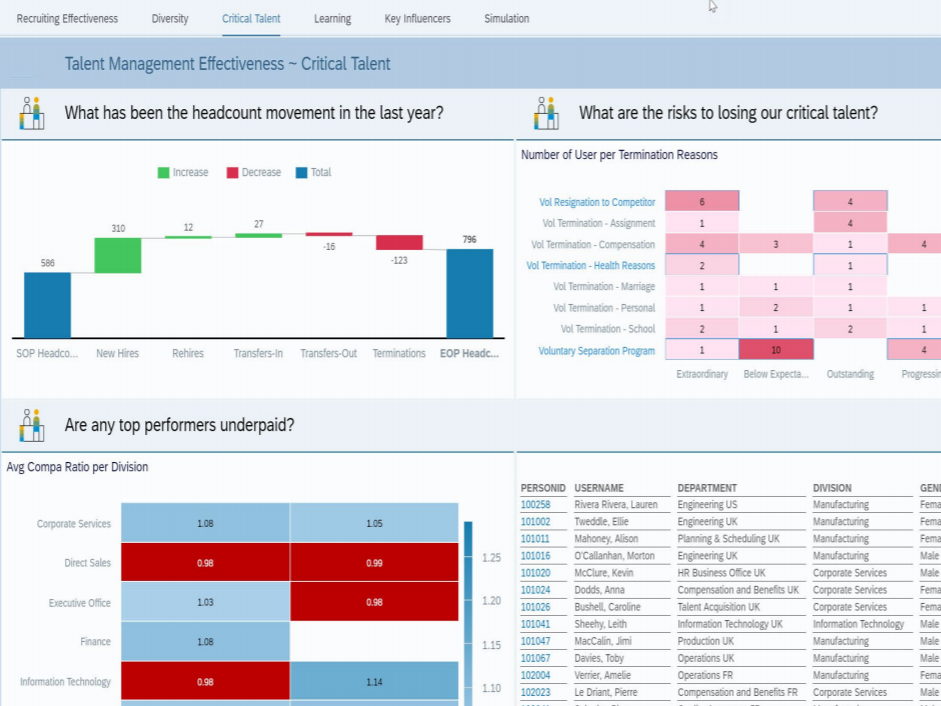 3. Recruitment
Questions such as: Do our recruiting efforts attract the right talent? Which sourcing channel provides the best candidates? What is the cost of hire for a position? What do my best candidates have in common?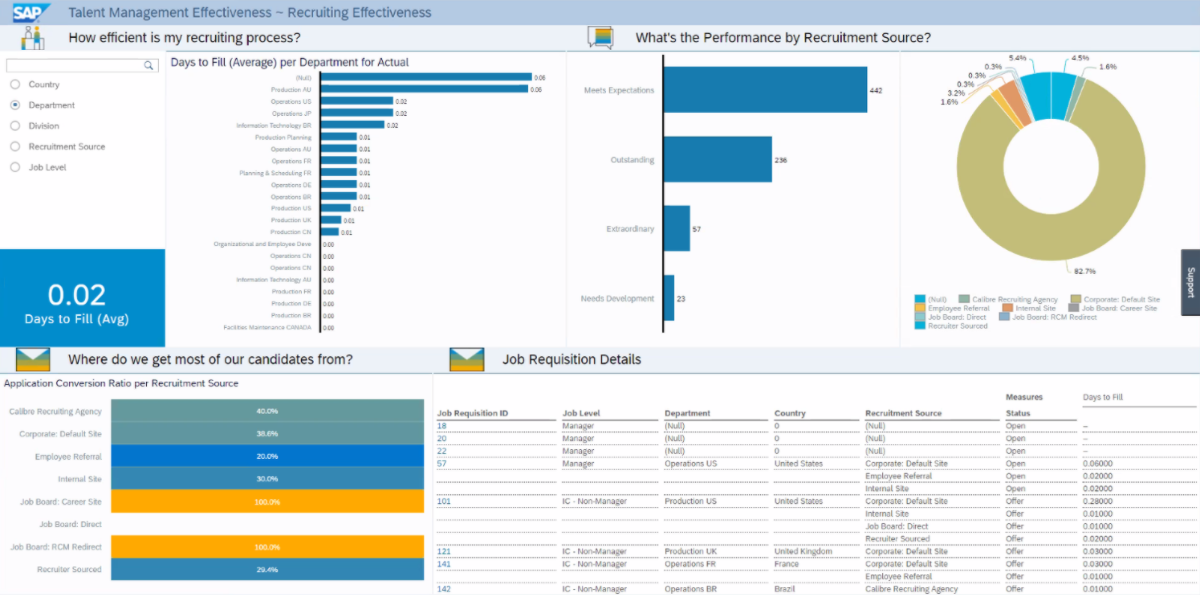 Companies nowadays are in a continued war of talent. In order to attract the right talent, you need to have the right insights. Talent acquisition analytics can certainly guide you towards the right direction for taking the most effective decisions by identifying the attributes that candidates should have and, more importantly, ensuring the efficiency of hiring managers to increase job offer acceptance rates once the correct person is identified. 
Other benefits:
You can use people analytics to evaluate and compare compensation profiles, incentive scores, performance ratings, and the attributes of employees of the same team or who hold similar positions in the company in order to ensure fair play. By gaining interesting insights to the employees' data points, HR can upgrade the employee experience, keep top performers motivated and happy, and build a better and more effective HR-employee relationship. In this way, a positive working environment is fostered, hence, employee retention is achieved and talented employees do not seek to leave the company while they maintain a good performance. Another important benefit is that managers are given the right tools to evaluate whether the employees are properly trained and have acquired the necessary knowledge to work on their assigned tasks or on their own projects. In this way, margins of errors are reduced, adding to the overall success of the company. Notably, organisations can use interactive analysis tools to ask questions about the state of diversity in the company, so that they can eliminate any possible bias and address potential problems with regard to the company's culture, strengthening the organisation's leadership bench.

With people analytics, the way data presented becomes much more simplified, providing advanced options for overcoming possible limitations of other reporting tools. With the SAP Analytics Cloud solution, HR processes are improved, optimising the overall workforce planning. By having the correct tools, not only you can take the right business decision but do it faster as well. The Report Stories of SAP SuccessFactors People Analytics use an embedded instance of SAP Analytics Cloud, giving you the flexibility to build modern and beautiful visualisations, interactive graphical tiles, and dashboards with drill down abilities. This tool allows you to create queries and perform calculations from multiple domains of the SAP SuccessFactors HCM suite, ensuring that all your reporting needs are fulfilled. Essentially, HR is transformed and elevated from administrative based to performance enhancing, increasing its productivity with speed and efficiency.

SAP Analytics can help HR to overcome people data challenges, helping in its digital transformation by acquiring new skills and capabilities to survive and thrive in this digital journey.  By knowing which data needs to be quantified and qualified and keeping up with the latest trends, HR can help to meet the company's goals. Generally, through predictive analytics, organisations are able to be proactive rather than merely reactive, ensuring the company's success.
For any queries or to learn more about the highly acclaimed services Supernova Consulting offers, get in touch with our expert staff either by calling as at 77 77 19 77 (+357 25 817 880) or through our website (https://supernova-consulting.com/contact-us). Make sure to contact us for your personalised advice.