Employee Central: Manage your pending hires more easily
Are you ready to speed up the hiring process and have a complete view of your pending hires?
The 'Manage Pending Hires' screen has been improved, with now a redesigned UI aimed towards improving the overall user experience and productivity. It is now possible to configure the columns and column names in this screen.
The new functionality includes the ability to add filters and perform customized sorting, making the process from new recruit to hired employee in Employee Central, even more straightforward.
This is especially helpful, for identifying where in the organisation, the new hire will land. It's also possible to filter on these fields, making it very convenient if you're responsible for hiring only a subset of the population, eg. based on Location or Department.

Improved Search Experience
SAP SuccessFactors is gradually introducing an improved and more consistent people search behavior across the suite. On pages where the enhancement is adopted, you can control the search results with Role-Based Permissions so that the information is provided on a need-to-know basis. For Employee Central users, multiple assignments or employment records are displayed in the search results under the same person with icon indicators. In addition, the people search on these pages now supports fuzzy matching for diacritical strings such as accented and dotted characters. For detail adopted module list, you can refer to Customer Community-Blog Post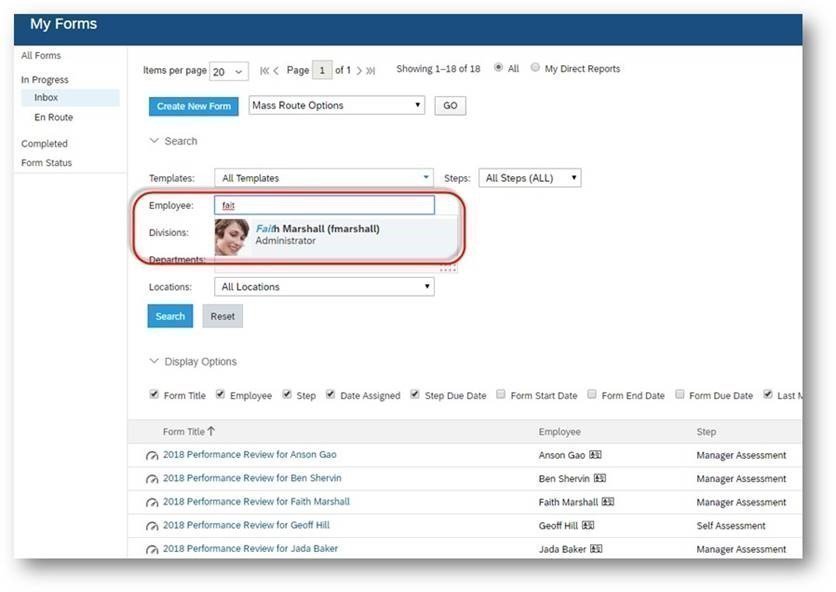 Performance & Goals Management: Enhancements Applied to Address Temporary PMV12a Form Auto-Save Behavior
As a follow up to the PMv12A Auto-Save issue where the interval period was temporarily changed from 5 seconds to 2 minutes, two enhancements, noted below, were applied to minimize any potential unsaved user data due to this behavior change.
Enhancement #1:  Reminder to Save and Invoking Auto-Save if User Navigates Away from the Performance Form.
With this enhancement, the system will prompt/remind a user to manually save their data if they try to navigate away from the form.  Navigating away from the form includes actions such as navigating to a different module/page within SuccessFactors or closing the browser window.  In the event the user does not manually save their data, the system will auto-save the data on the user's behalf.  This enhancement should serve as an extra precaution to ensure data is saved, even if the user does not take the step to manually save. Please note, due to a browser limitation, this enhancement is not currently supported on Safari. 

Enhancement #2: Invoking Auto-Save just prior to a Session Timeout
This enhancement will invoke auto-save when the system detects unsaved data just prior to a session time out.  This will help ensure unsaved data is automatically saved in cases where a user has not taken any actions in the form that communicate with the backend server (such as a manual save).
For more details, please refer to the Customer Community post on this topic