SAP Sales and Service Cloud (C4C) Release 2108 rolled out by SAP on August 2021 and introduce new license model, functionalities innovation and numerous system enhancements.
New License Model
One of the new highlights of the 2108 Release is the compilation of Sales and Service in "SAP Sales & Service Core", which contains all the basic functionalities of both products. The new licensing model will apply to new customers, existing contracts keep their validity as per the agreed contract terms and are not affected. 
Innovative functionalities are offered on top the standard "SAP Sales & Service Core" as optional add-ons. These include, Dynamic Visit Planning, Agent Console for SAP Service Cloud and Intelligent Sales Add-on for SAP Sales Cloud. Nonetheless, the mentioned add-ons can also be purchased from the old Enterprise and Professional editions.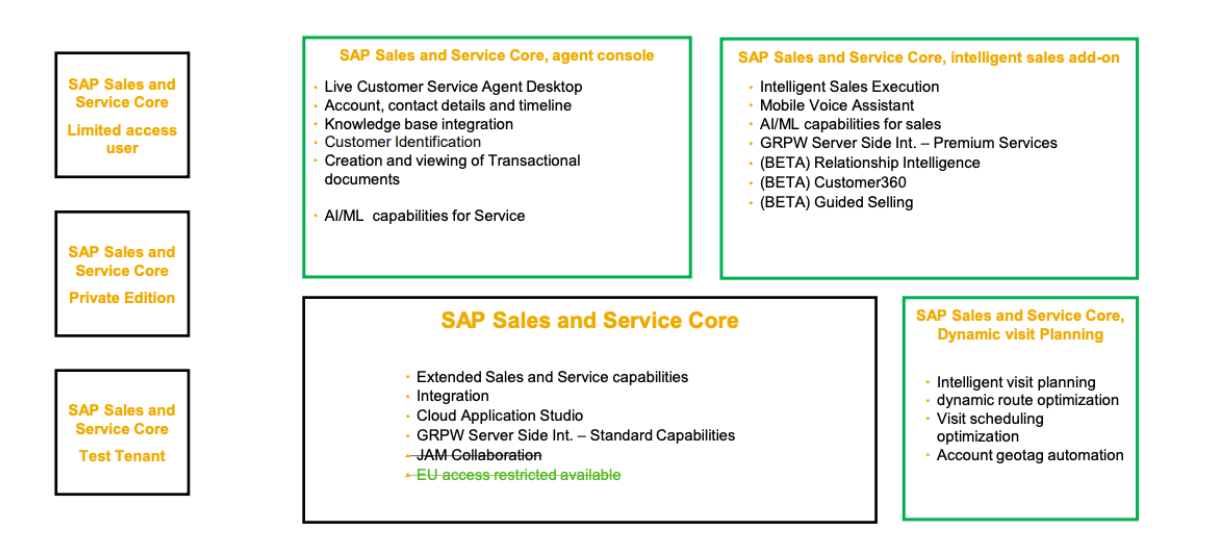 The SAP Sales and Service solutions functional specifications can be found here.
PLATFORM & INTEGRATION
Microsoft Teams Integration
One of the most important innovation with the 2108 Release is the Integration of Microsoft Teams in the SAP Sales or Service Cloud. The new feature allows users to create and start Teams Meetings directly from SAP Sales Cloud and add or edit data from SAP Sales Cloud in Microsoft Teams.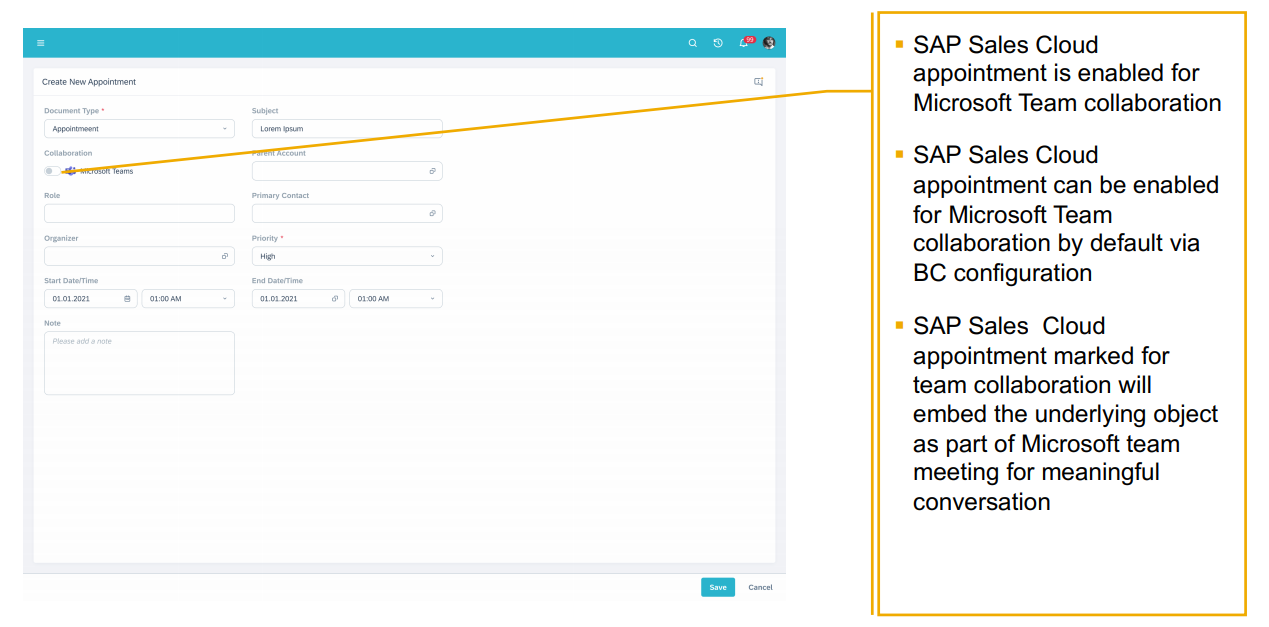 On the other hand, users are able to view context information of the meeting from SAP Sales Cloud with a single click, can view meeting invitation details, or edit Data Sets records based on their permissions.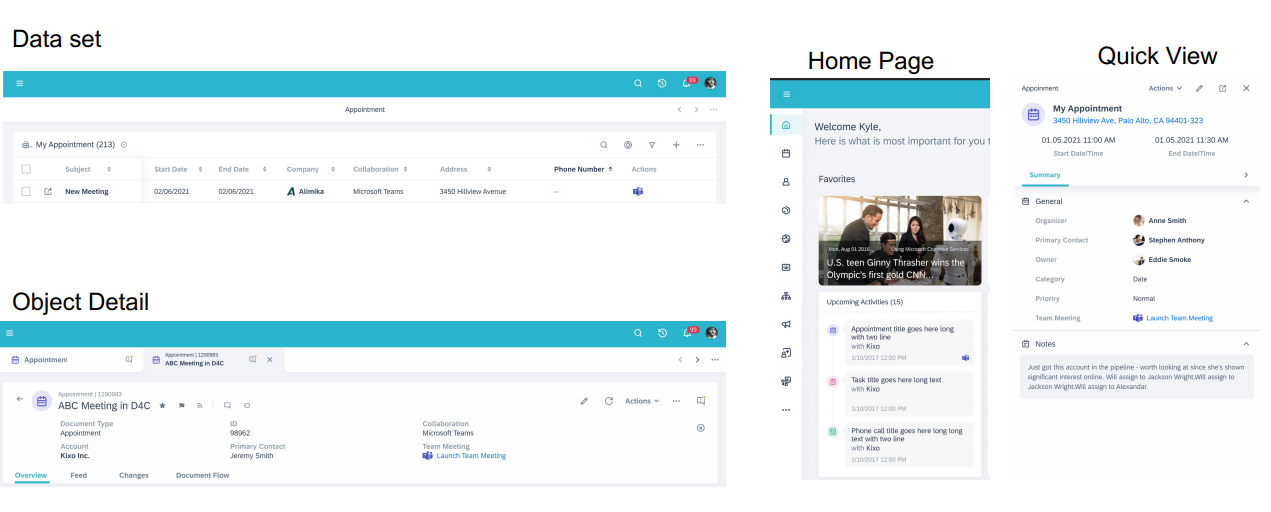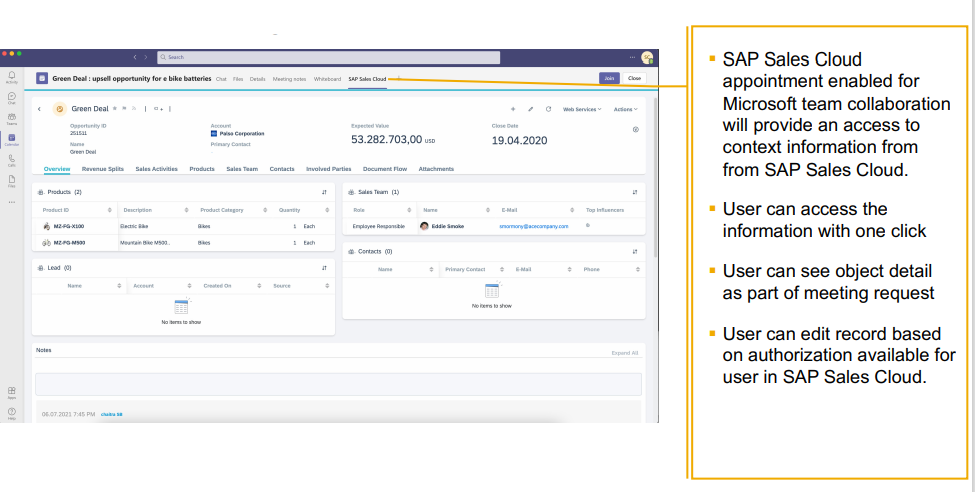 Business Partners
Extension fields on Sales Data can now be shown in the Account Summary report.

Analytics
The integration of the SAP Analytics Cloud (SAC), which was only available as a beta version in Release Update 2105, is now fully available. The real-time integration of the systems enables in-depth, personalized analyzes.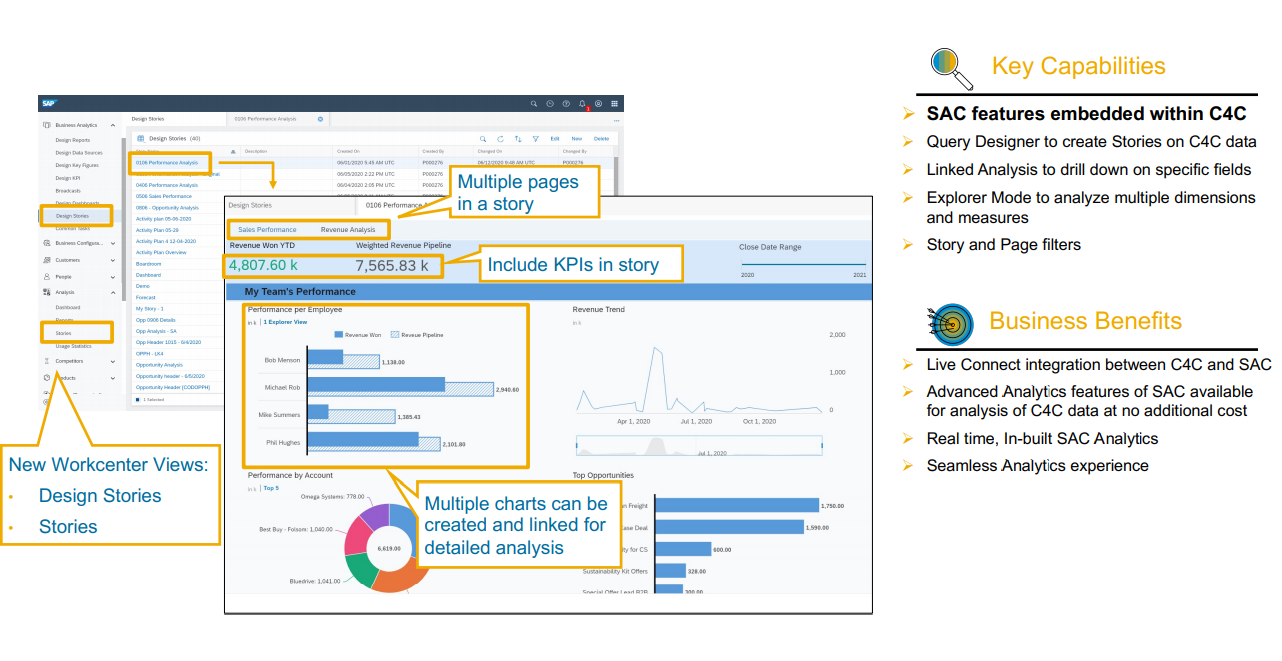 Key User Tools
Extension fields which are part of the advanced search will no longer be enabled in basic search. Key users can decide which extension fields are required for basic search inclusion.
It is now possible to assign dynamic font colors to individual fields. This allows individual fields to be highlighted - based on defined conditions - in order to attract the attention of the user.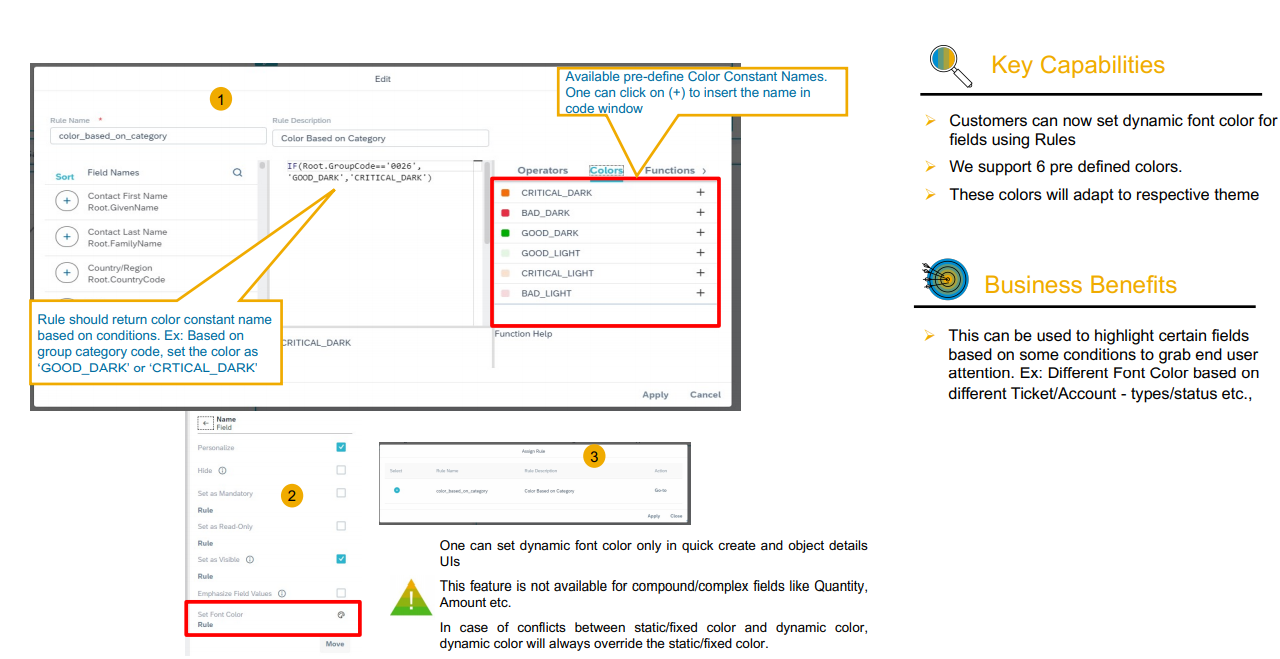 (Beta) New Global Search
The new release includes a new global search in beta status. The search technology used is based on Elasticsearch. It can display results quicker as soon as the search term is entered. Users can have access to search history, different filtering options and detailed results.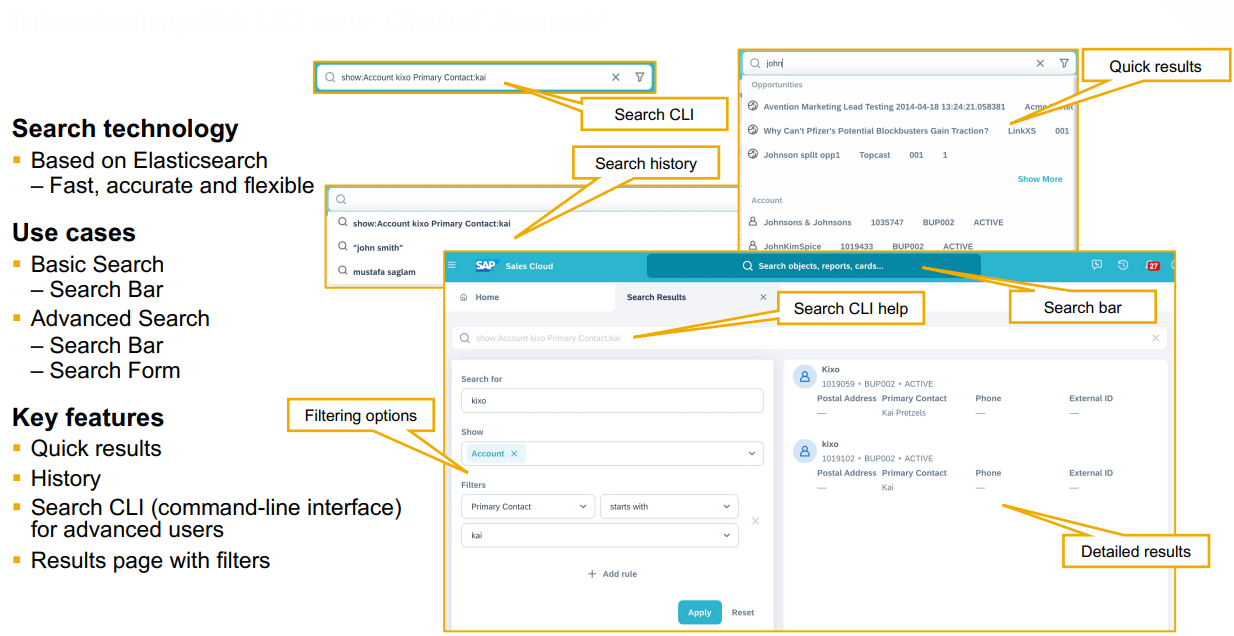 SALES
Lead
Lead Territory can now be carried forward during Lead conversion (or association) to an Account/Contact and Opportunity.
Opportunity
The progress of an opportunity can be automatically adjusted based on the activity history.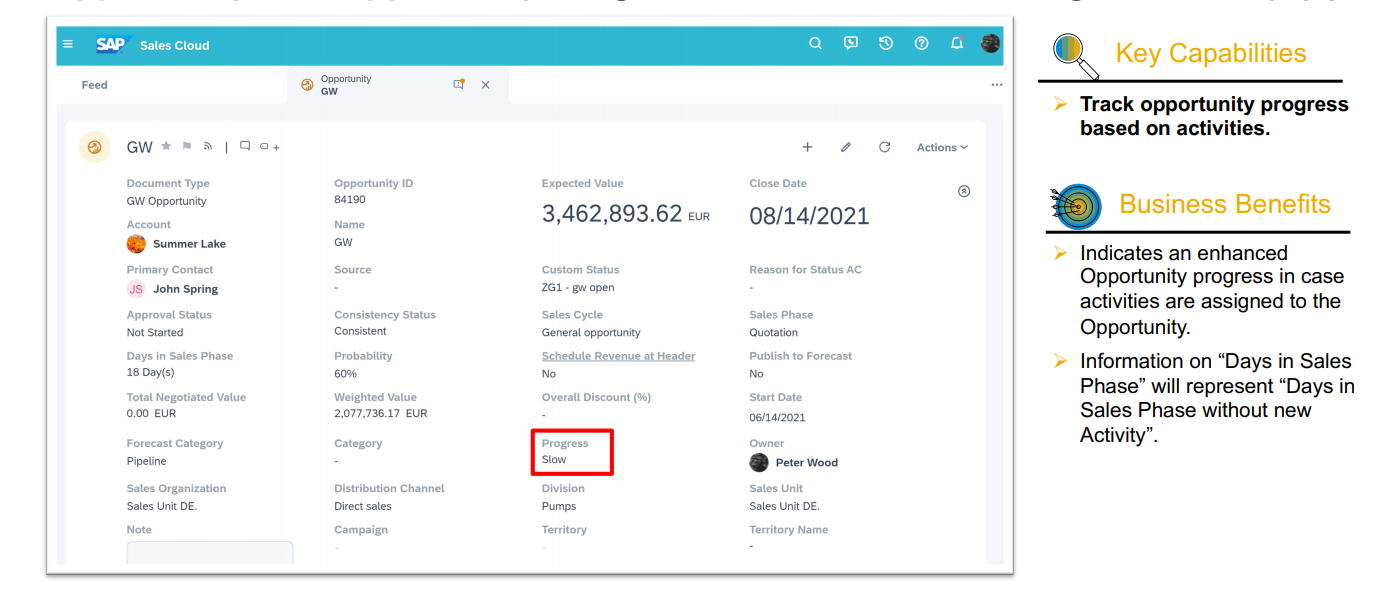 With 2108 Release is now possible to link tickets to an existing opportunity. This will allow you better to track business transactions.
Visits
Visit object has been optimized and follow-up documents can now be created quickly and easily. Surveys and Tasks can be added directly from the sidebar.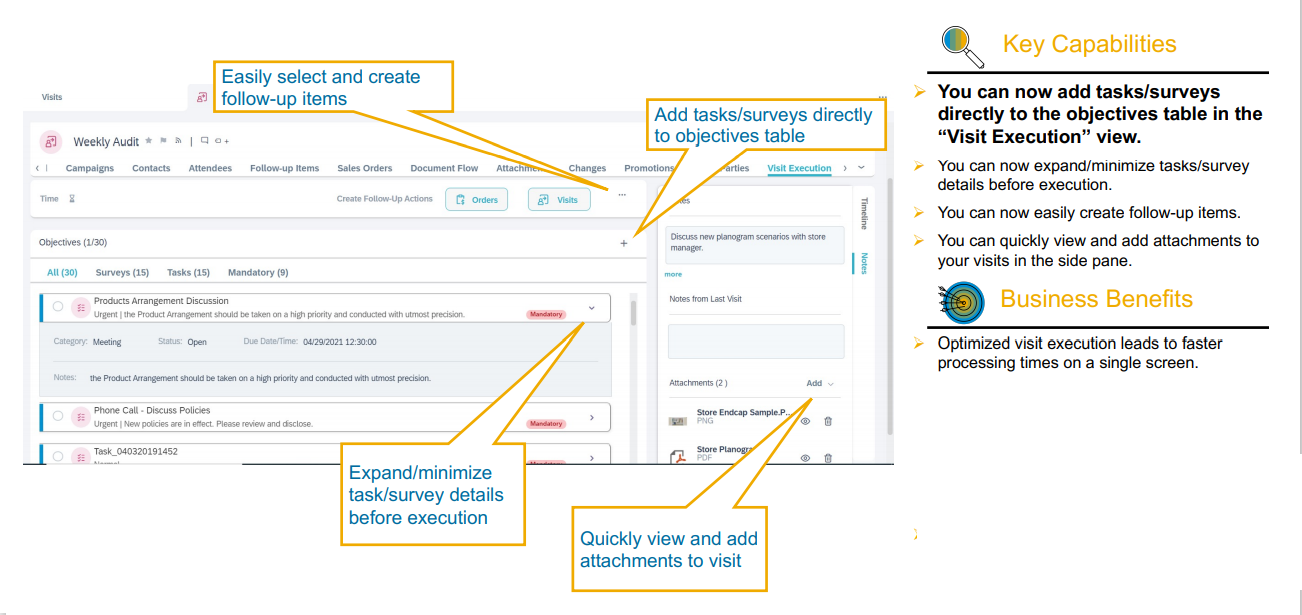 Furthermore, it is now possible to add participants to a visit directly during the visit creation.

Dynamic Visit Planning add-on
This add-on enables route planning to be optimized and allows historical traffic data to be included in the calculation. Also, the Visit Planning can be automated by using rules. 

Intelligent Sales Add-on
The Intelligent Sales Add-on includes the components Sales Assistant, Guided Selling, Relationship Intelligence and Customer 360.
Sales Assistant chatbot supports the sales representative within the mobile application. Information can be accessed very easily and quickly using text, touch, or voice. This feature is the perfect tool for sales representatives who are dependent on mobility.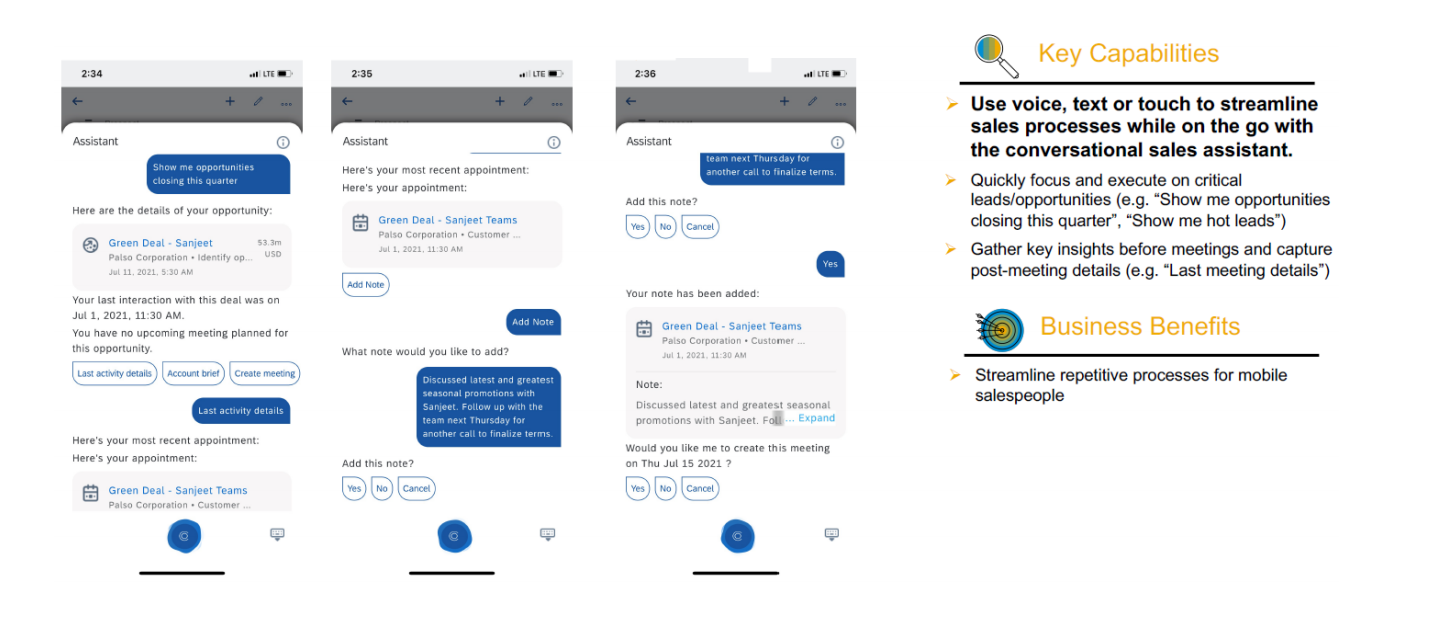 Guided Selling (beta) offers a dynamic and individual support during the sales process.
The Playbook is suggested set of activities and/or actions, a rep can take at a particular point/phase of the sales cycle
Relationship Intelligence allows sales users to analyze and visualize relationships within an opportunity. The business can keep a close watch on relationship strength changes on the key accounts/contacts.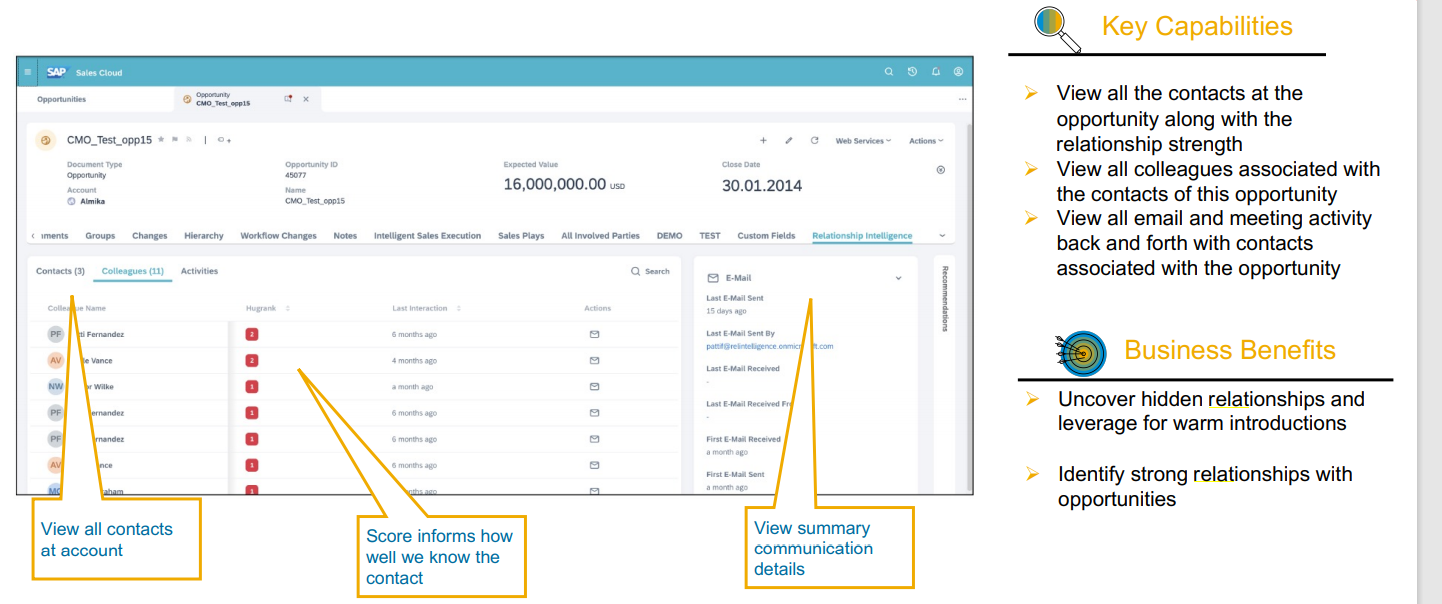 Customer 360 provide the most comprehensive overview about the customers. For example key metrics from Pipeleine Manager & Forecase Tracker, signals (web store activities) from SAP Commerce Cloud and Potential Issues from Opportunity Scoring of SAP Sales Cloud.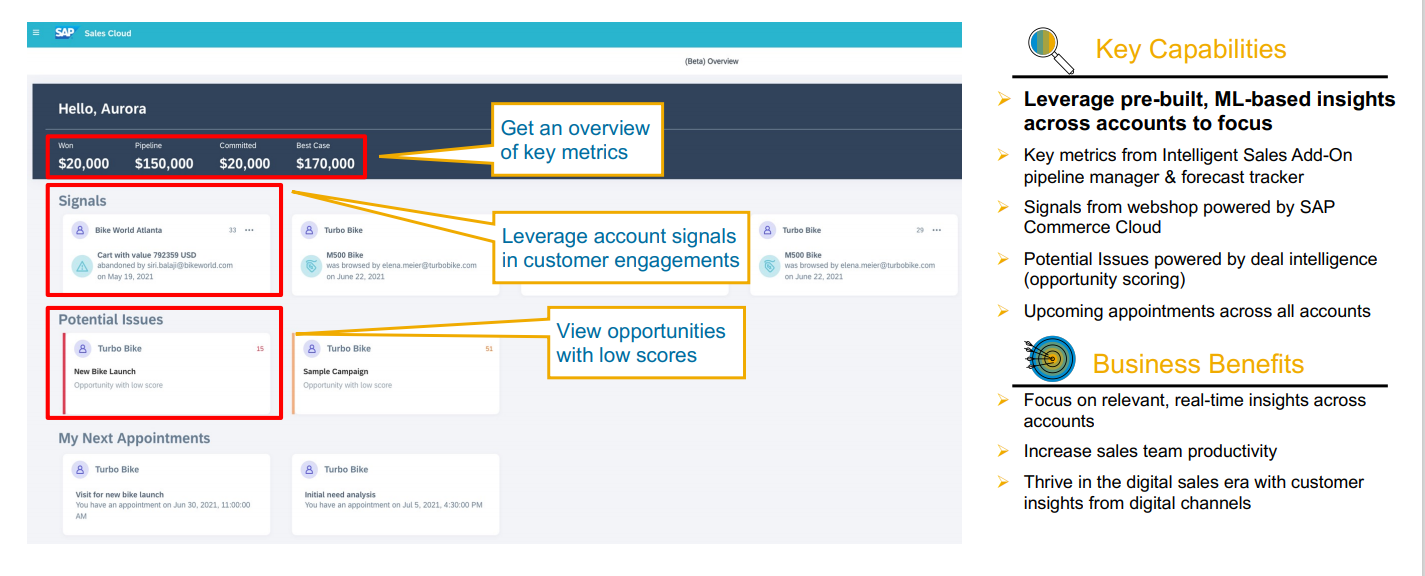 Furthermore, unified insights can be captured from the back-office ERP, for example Invoices, sales contracts & credit limit.
SERVICE
Internal and Portal Memo
The editor TinyMCE is now available for internal notes and portal notes and enables better performance.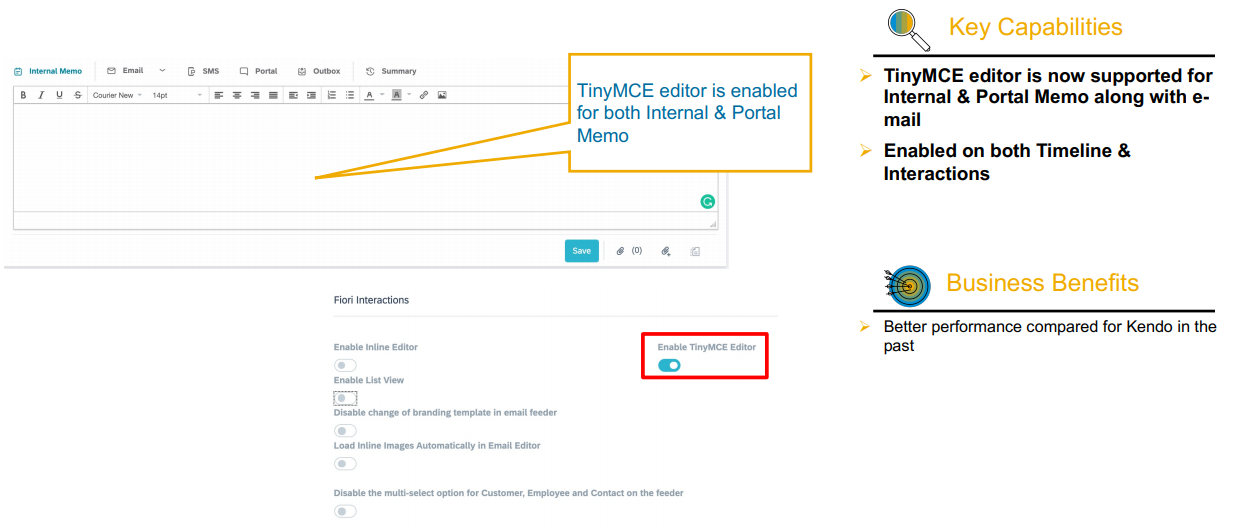 Internal memos can also be created if the status is already set to "completed".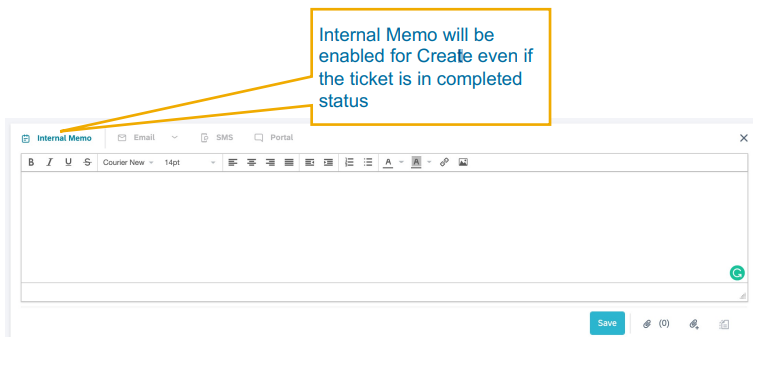 Service Management
In service management, Use code list restrictions to limit the entriesfor distribution channel and division fields for tickets.
Measurement Logs and Readings
Users can now track changes made to measurement logs and measurement logs in the Changes tab of a Registered Product detail view.
Agent Console add-on
Agent Console add-on supports the employee in process management and can be flexibly adapted to their own needs. With a new UX, the tool can increase the efficiency of the service employee and better manage live interactions with the customer.
It supports:
•    Phone, Chat, SMS, Integration w/ CTI
•    Email send within Agent Desktop from no-reply email actions 
•    Interaction timeline events - Chat/SMS/Email 
•    Object timeline events - Ticket, Registered Product
•    Customer Search and Identification 
•    Customer Hub (Customer details, Timeline, Transactional objects (Tickets, Registered Products), Knowledge Base (MindTouch), Session notes, CTI parameters) 
•    Configuration – Widget, KB provider, Customer Hub card fields (various), Customer Identification card fields
Agent Desktop Experience: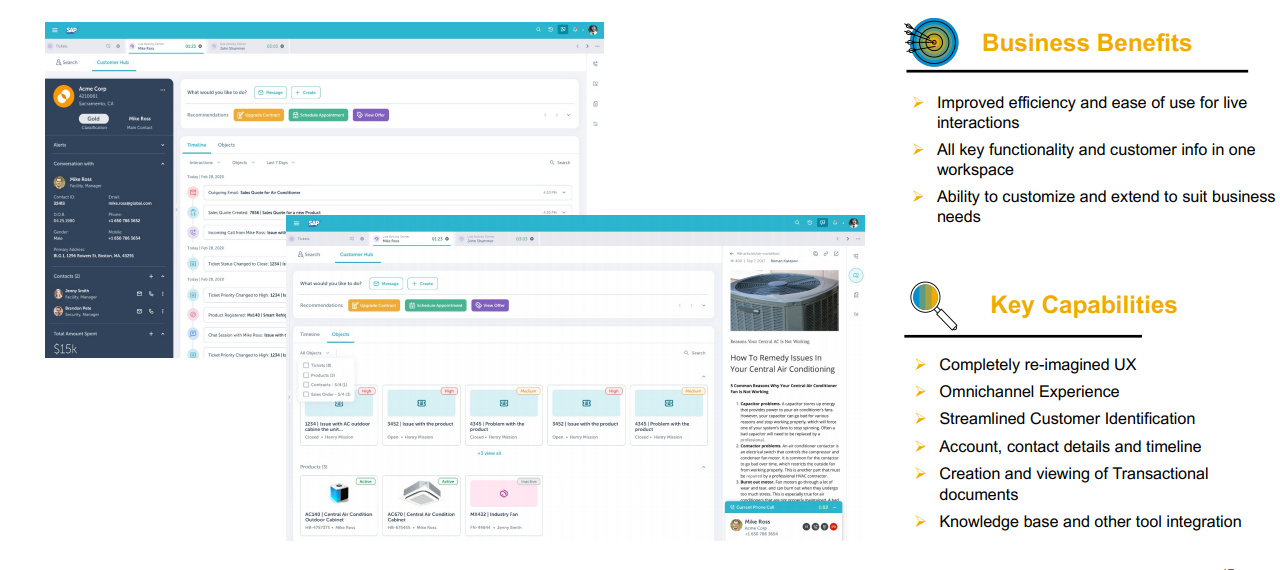 CTI Integration and Channels:
Customer identification & Customer Hub: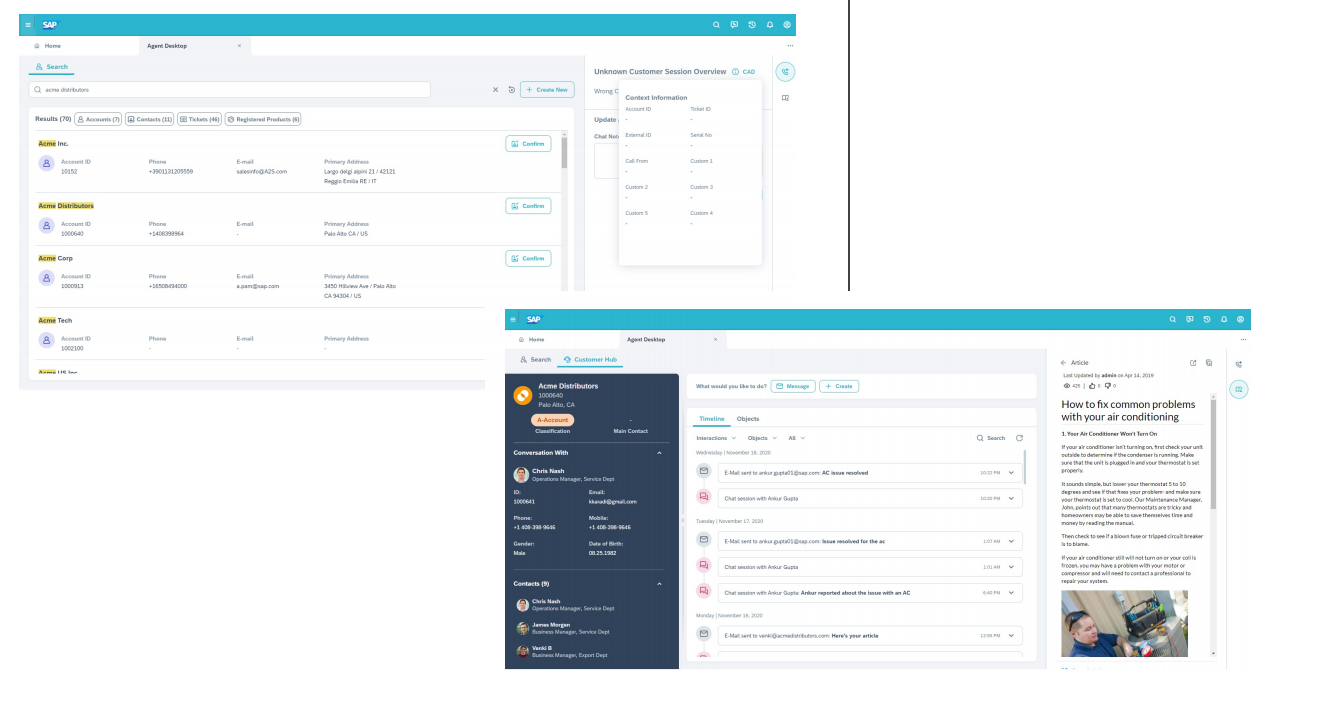 ---
---
Check our Success Stories: