SAP Cloud for Customer (C4C) Release 2011 rolled out by SAP on November 2020 and brought numerous improvements and new features for the SAP Sales & Service Cloud. Check what the SAP Cloud for Customer (C4C) Release 20.08 included.
Check some useful enhancements of the new release below: 
What's new on Platform level? 
PLATFORM & INTEGRATION
SAFIRA NEW THEME
The new theme is becoming better! The object header gets its own card visualization, Account brand is reflected via favicon concept and the emphasized text for navigation link provides much modern UI experience.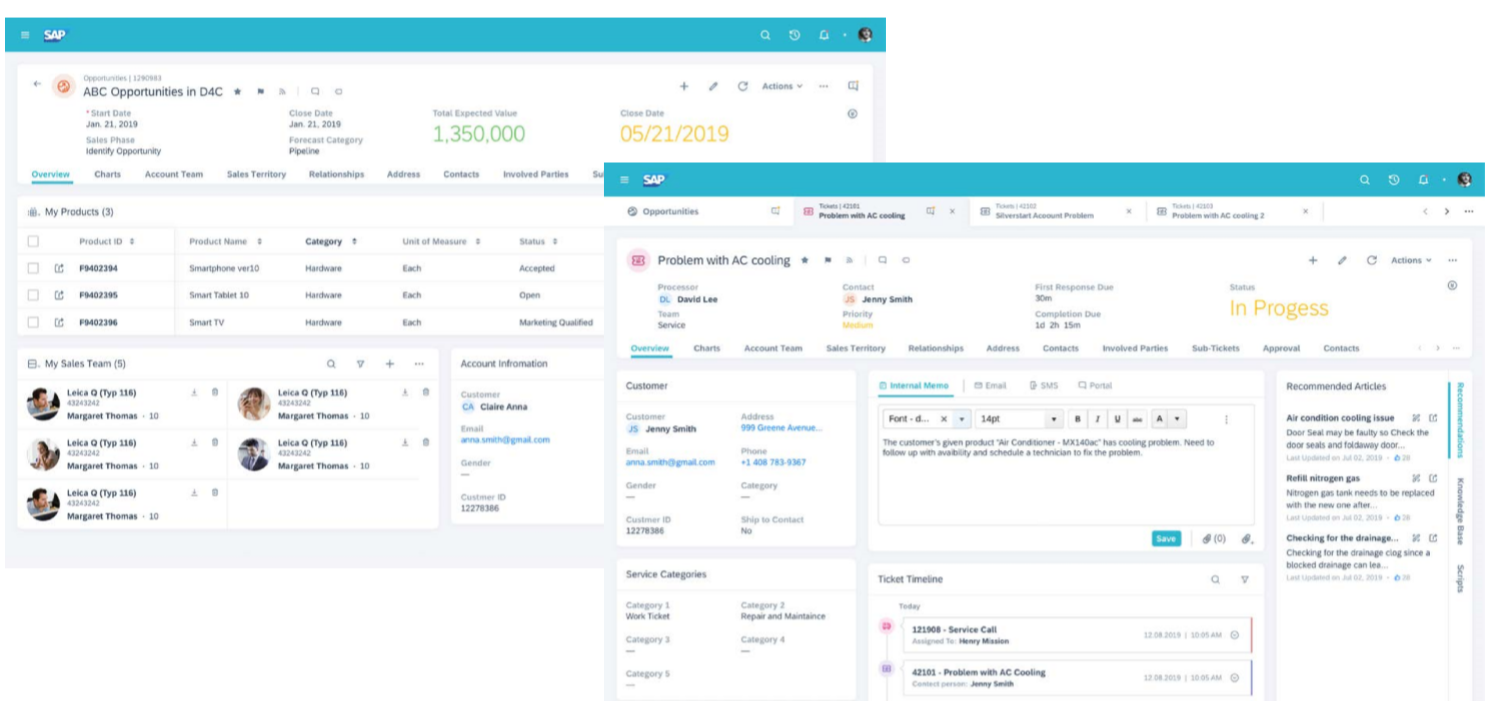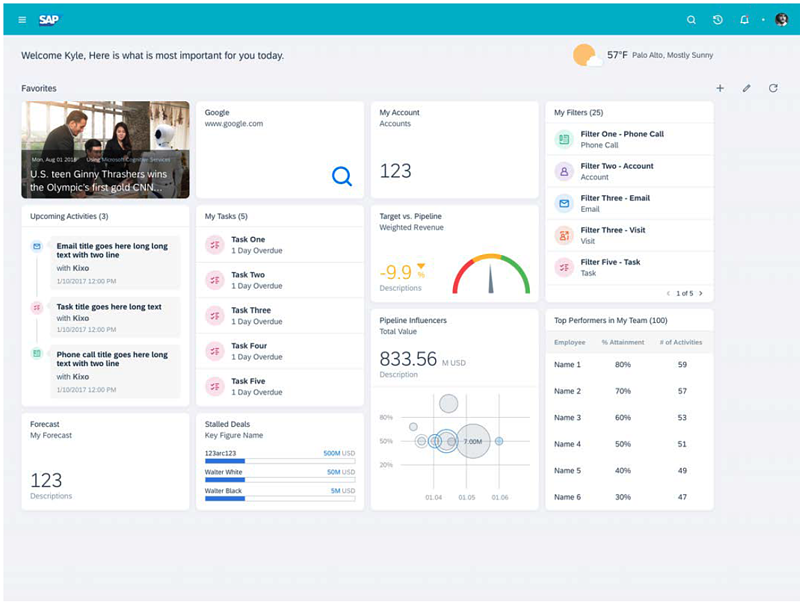 Home Page Enhancements
Kanban board configuration is now available as part of crating new custom card. Provides the flexibility to choose an object and data set query, improving usability of accessing data from Home Page.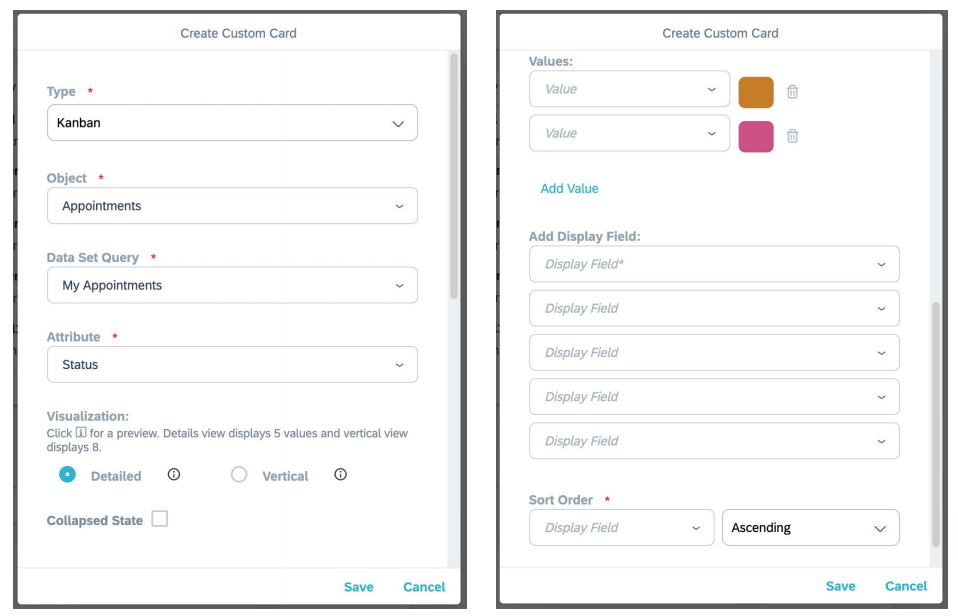 Quick Links on Homepage
Users can now use the quick link tiles, to launch frequently used functions from home page with just one click.
---
---
BUSINESS PARTNERS
Competitor and Competitor Product information to Accounts
There is now the option to quickly lookup and maintain Competitors and their products competing with you at the Account level. 
Contacts can now be enabled to be associated to one Account Only. 
Country field has been renamed to Country Region.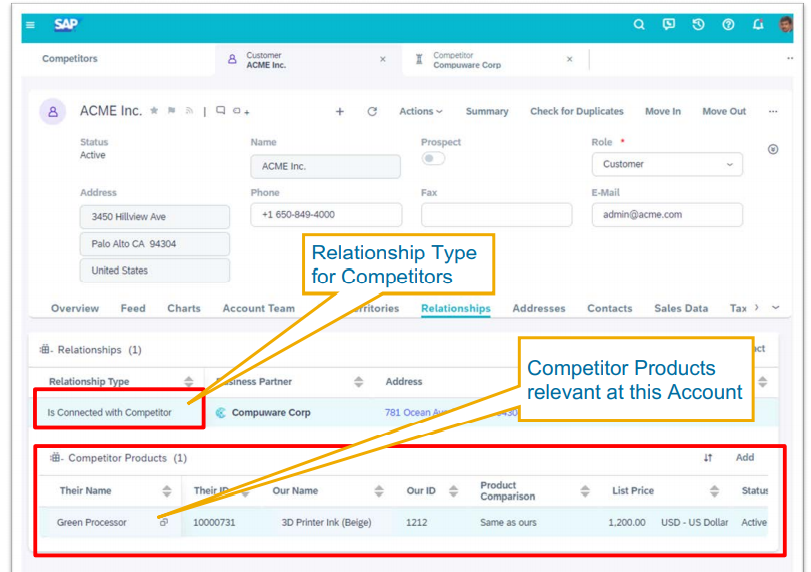 Enable Contact to be associated to only one Account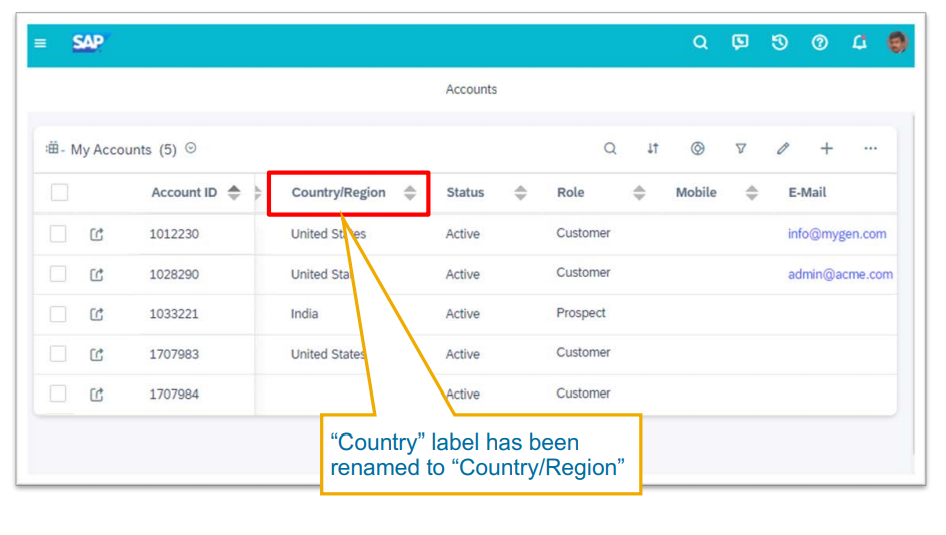 Products Lists
Automatic Proposal of Restricted Product List
Users can easily select and edit product proposals derived from a restricted product list.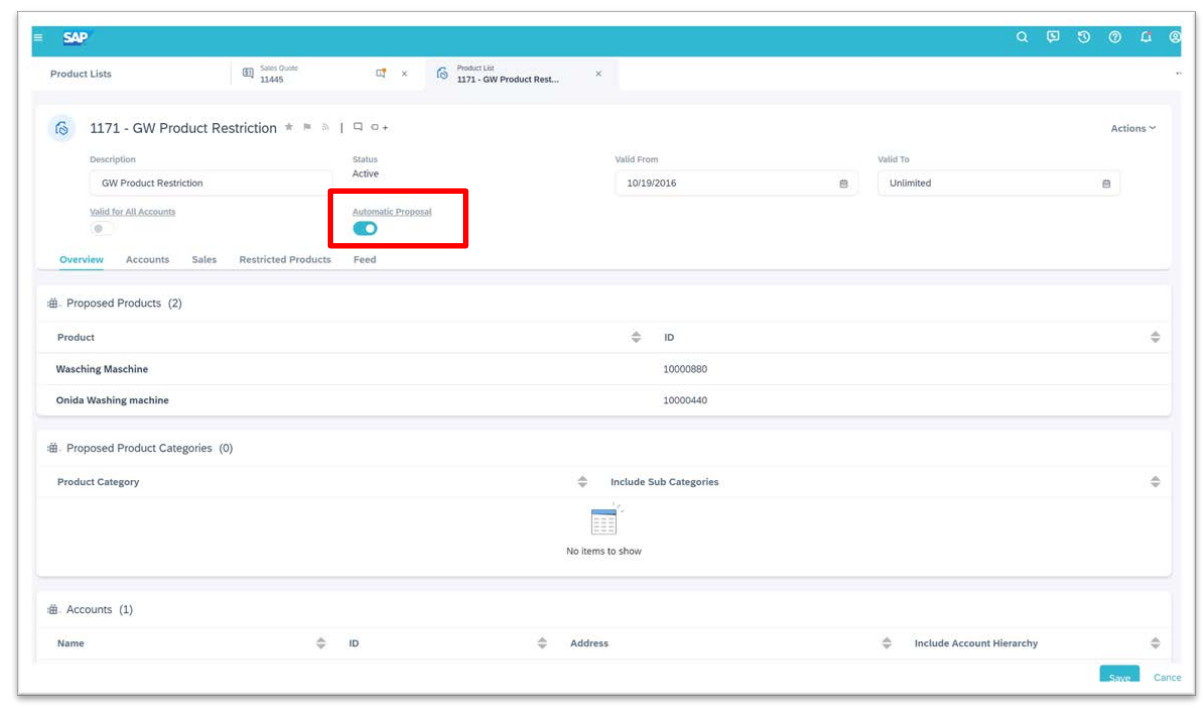 Propose Products based on the Requested Date
Sales users can accurate product proposals based on the requested Date (Header) of the transaction, as product proposals can dependent on the expected delivery.
SAP Extended App
Multiple Attachment Upload (Offline)
You can now take multiple pictures at one time and upload them to the app on your mobile device when working in offline mode. You can also select multiple pictures from the device's file gallery and upload them in one shot when working in offline mode.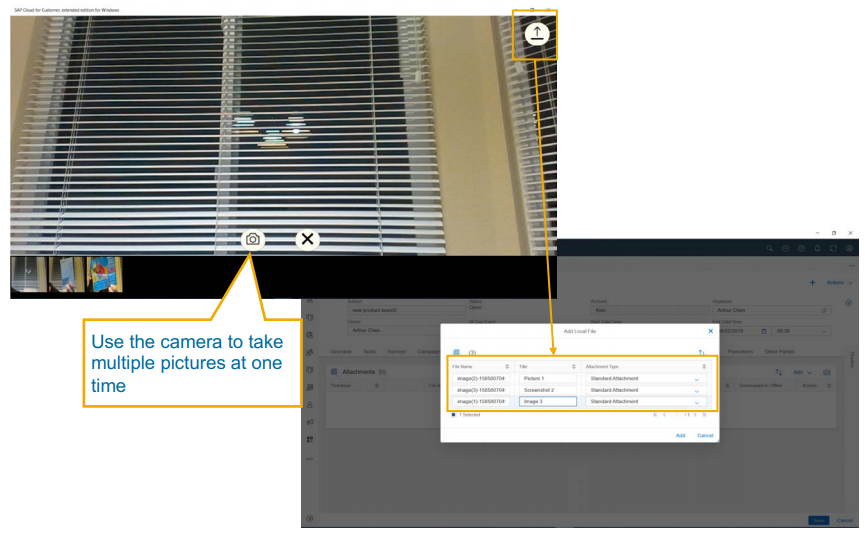 Push Up notifications on workflow updates
Users can now receive push notifications to their mobile devices when workflow conditions are met every time and not only once the first-time conditions were fulfilled. Enabling this setting will ensure that all notification updates are received.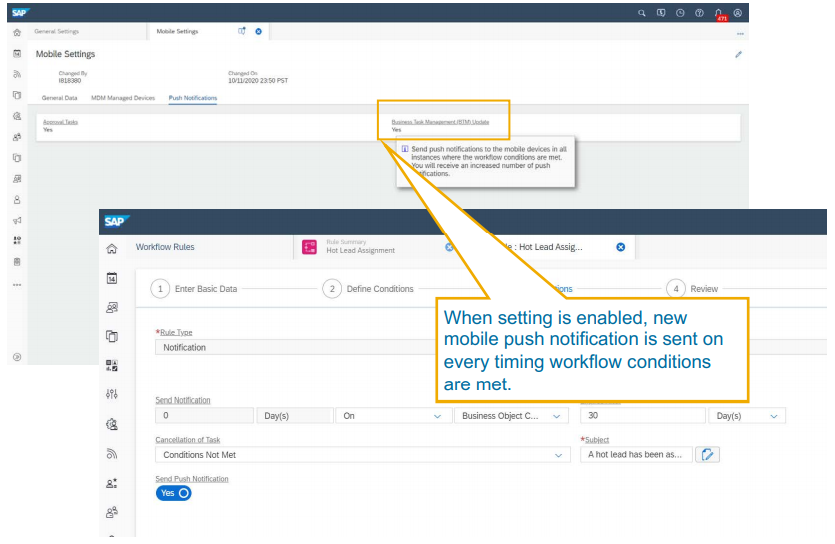 ANALYTICS
SAC Integration Embedded
With 2011 release, SAC features are embedded within C4C:
1)    Query Designer to create stories on C4C data
2)    Linked Analysis to drill down on specific fields
3)    Explorer mode to analyze multiple dimensions and measures
4)    Story and Page filters
 
Renaming Dashboards Variants
Users can manage the Dashboard selections. Provides the user the flexibility to change the selections just like in reports and also to maintain different variants based on filters values selected.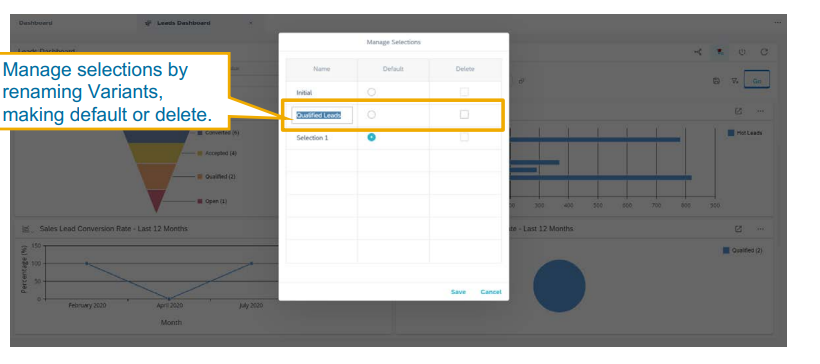 Warning message on Saving Report View/Selection or Dashboards selection
The new enhancement can avoid the creation of view/selection of same name.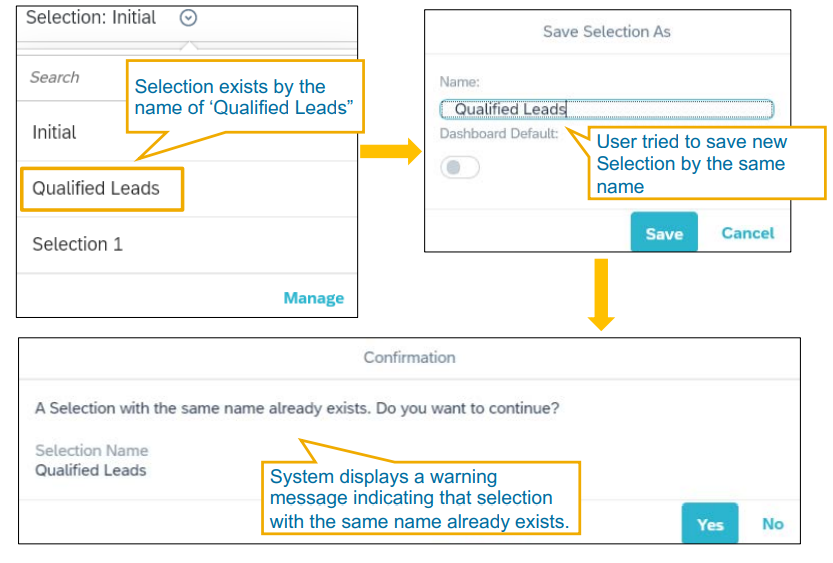 Key User Tools
Configure Colors
Key Users can change the look and feel of the UI by configuring color, highlighting certain key columns, fields using prominent color.

Emphasized Text Conf
Key Users can now select the fields which they want to highlight or emphasize in details page.
 
Manage Views
Administrators can enforce the allowed list view option in overview page. They can enable or disable certain view which will be enforced for all users.
 
 
ARCHIVING
Archiving of Documents
With 2011 release, is now supported the archiving of documents in SAP Cloud for Customer. Supported documents:
Sales Quotes
Sales Orders
 Activities
Tickets
This enhancement helps improve performance by reducing data volumes and clutters by allowing to move irrelevant data into archiving storage.
---
What's new in Sales 
LEAD MANAGEMENT 
Sales Owner for Lead Routing Rules
Sales Owners can now be additionally maintained on top of the current owner for Lead Routing Rules. Splitting of Owner responsibilities across Sales and Marketing can be easily handled.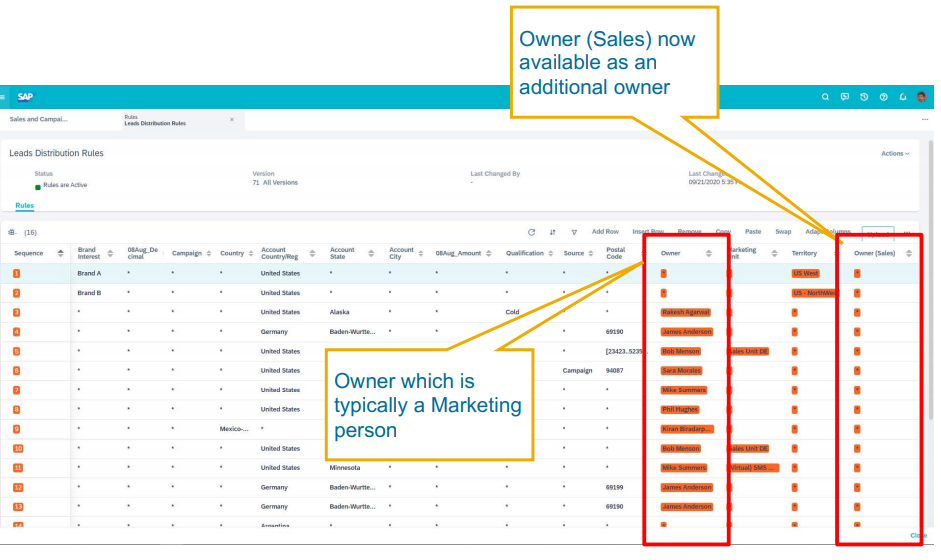 Formatted notes supported in Workflow Action
Formatted text captured on Lead Notes can be now sent via predefined email (workflow action).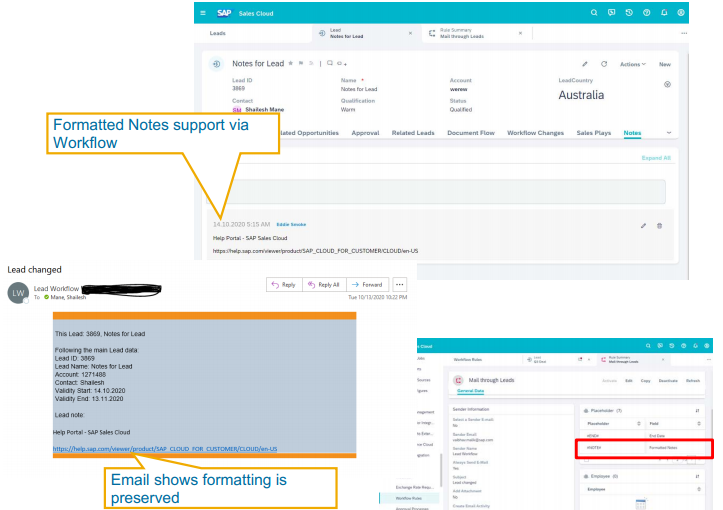 Parent Account and Top-Level Account
Parent and Top-level Account information is available at the Lead Datasets, Quick View, and Lead Detail Screen.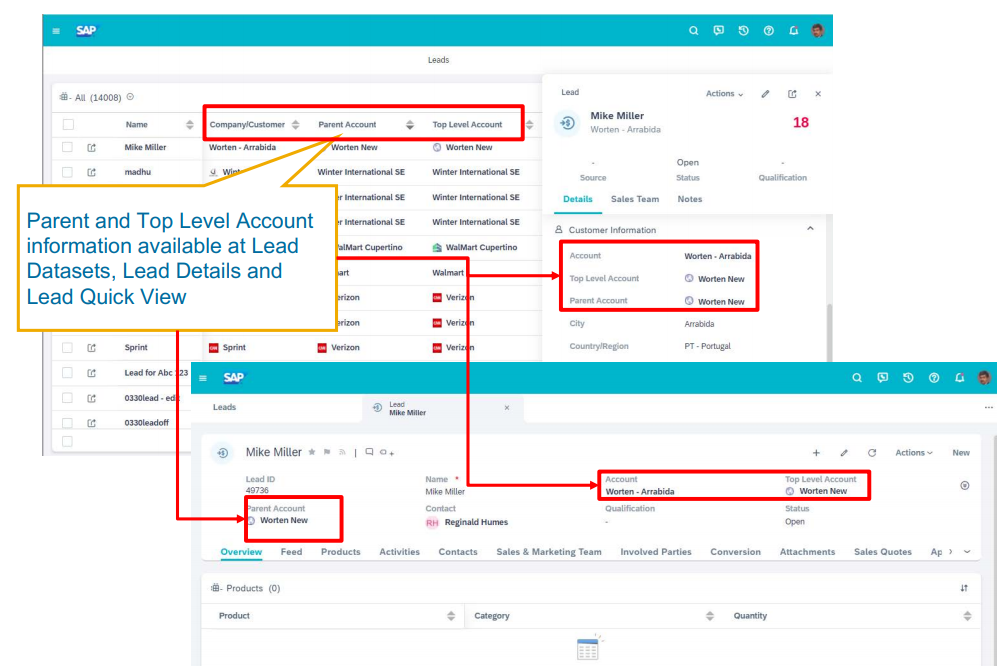 Refresh Action on Lead Details
Refresh action is now available on the Lead Detail screen. User can quickly refresh the screen to see the updated data without having to reload the lead.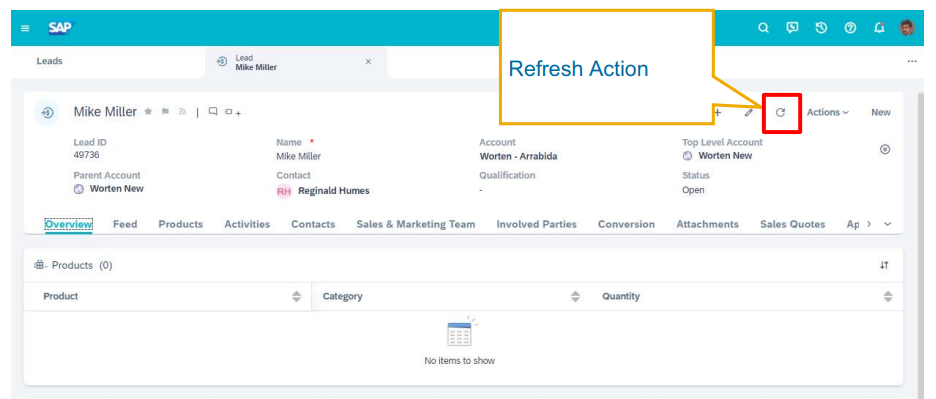 OPPORTUNITY MANAGEMENT 
Opportunity Duplicate Check
This business option allows you to enable a duplicate check for newly created opportunities to search for duplicated opportunity and lead information. Provides the user the transparency of similar opportunities or leads to avoid the creation of a duplicate opportunity.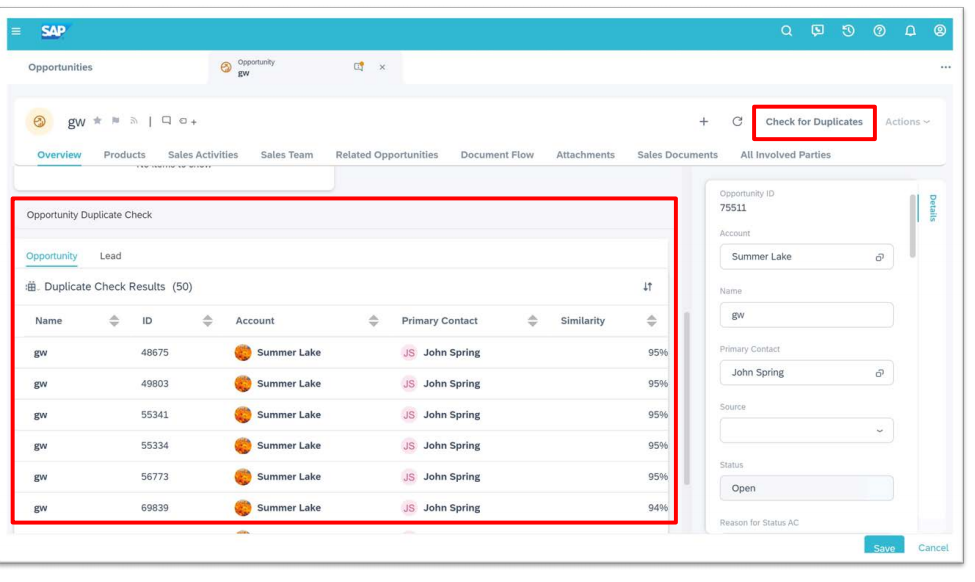 Item Status Configuration to Control Total Negotiated Value
The status (standard or custom) can reduce the Total Negotiated Value of an Opportunity.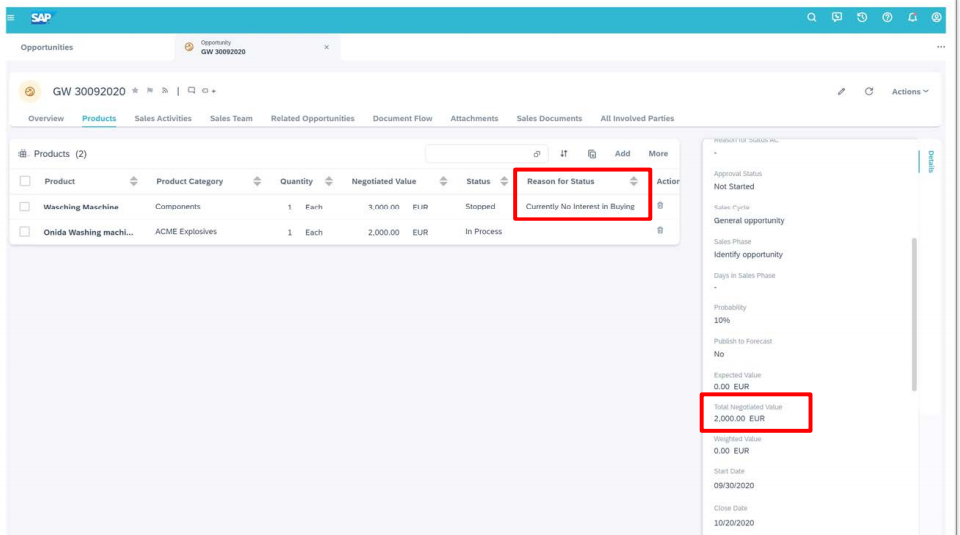 SALES QUOTES MANAGEMENT
Use Rich Text for Output E-mail
This feature allows you to select formatted templates and signatures to your output e-mails. Also, provides better flexibility on E-mail Communications to your customer.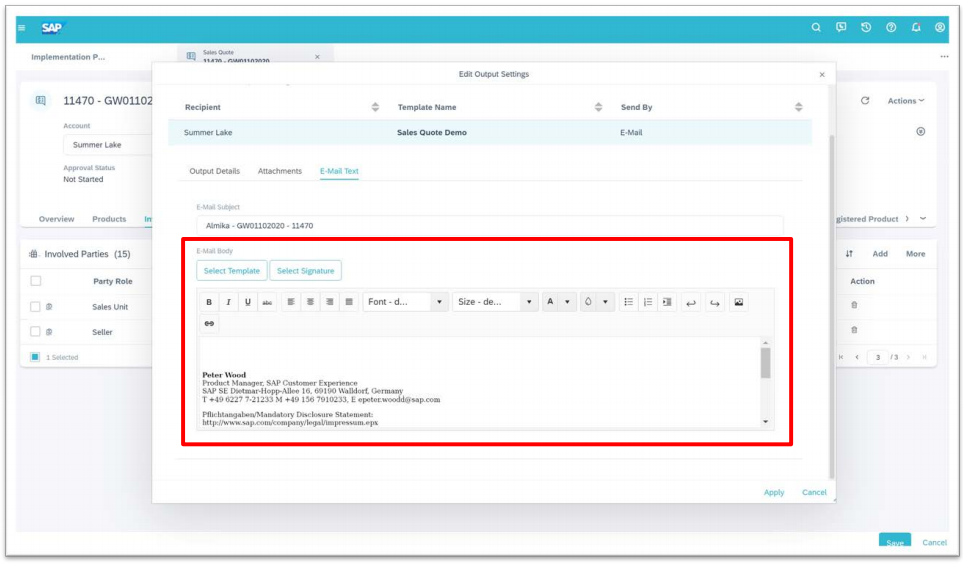 Top Level Account and Parent Account part of work list/search
Users can search for a sales quote based on the Top-Level Account / Parent Account. This feature provides better visibility on account hierarchy during sales quote processing.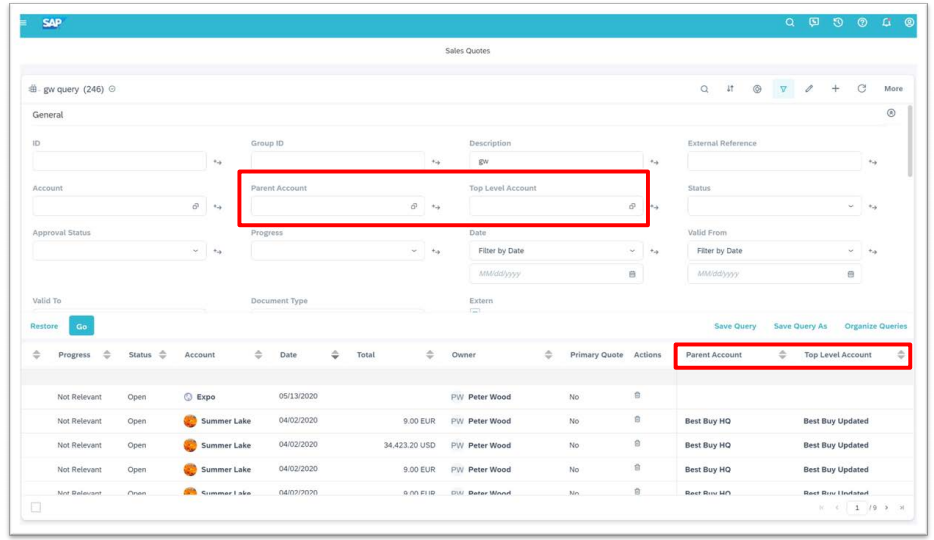 SALES ORDER MANAGEMENT & OFFLINE PRICING
Use Order Delivery Date to check product validity
The feature allows you to select the date for proposing product within the transaction depending on their validity period using product list. In addition, users can decide which date shall be checked when displaying the proposed products within a product list, ensuring the product visibility for sales representatives.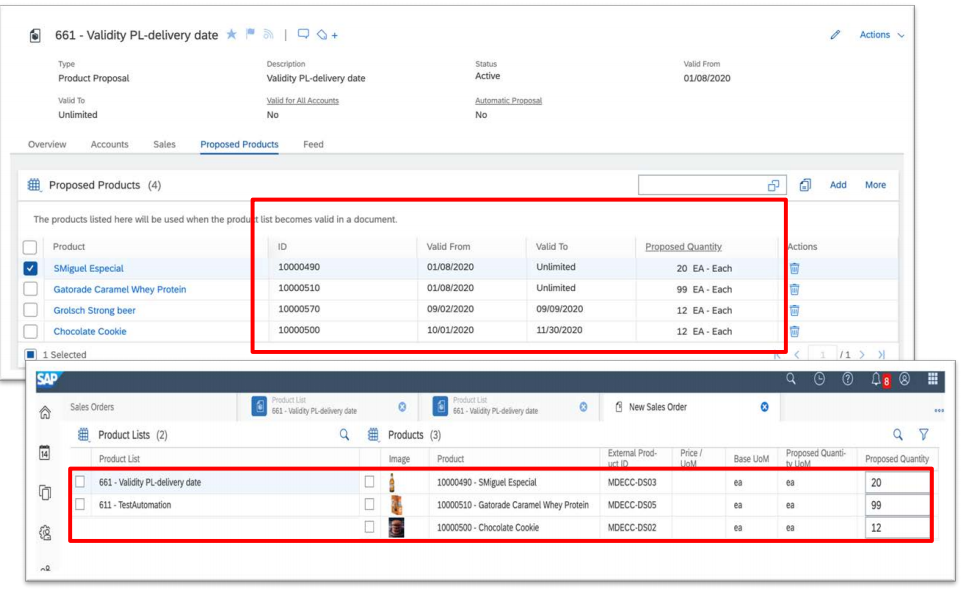 Enable auto proposal for restriction list
This setting allows you to define one product list which restricts the products to be offered to the customer and can also be used for automatic proposal for products when creating an order or sales quote.
 

Creation date synchronized with document date
Order transferred from ERP can have the same creation date as the document in ERP.
Credit Status represented in colors
Different credit status values depicted in different colors.
---
What's new in Service
Service Channels E-mails
Email Channel Address Verification
Administrators now need to verify the e-mail address maintained in the e-mail channels before the channel can be used in ticket interactions.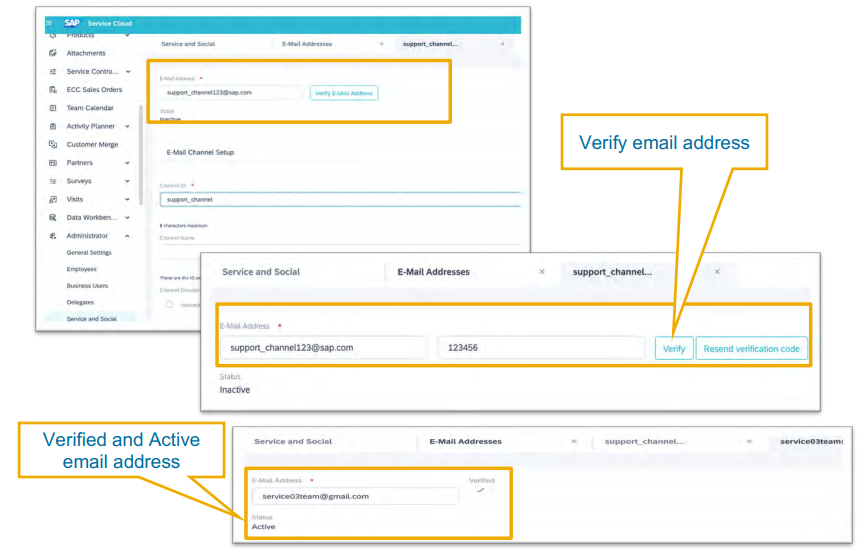 Service E-mail Workflow
This setting enables the admins to configure workflow rule's conditions to achieve different use-cases, for example to send out e-mails to the reporter of the ticket.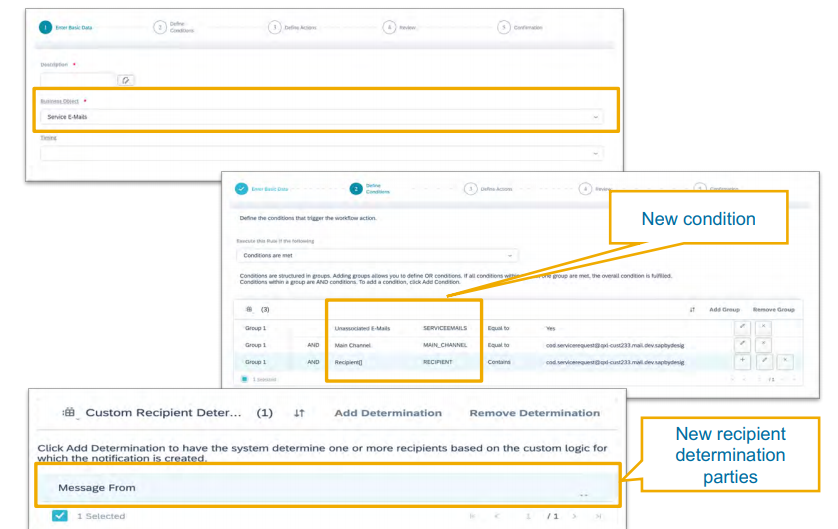 HR Service – Default E-mail Address
Administrators can define the behavior of defaulting the email address while composing a new email in the employee support scenario. When the ticket is created On-Behalf of an employee, the default recipient of the response is the reporter and not the employee.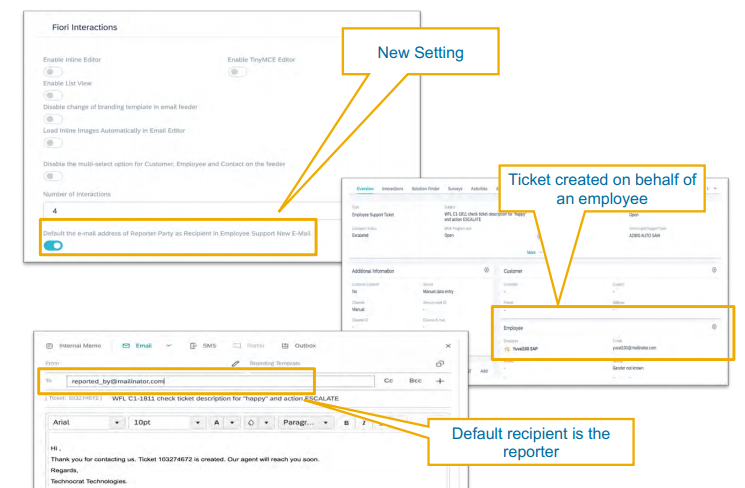 E-mail Send in the Background
Agents can now decide to send e-mails in background using the action Send Later.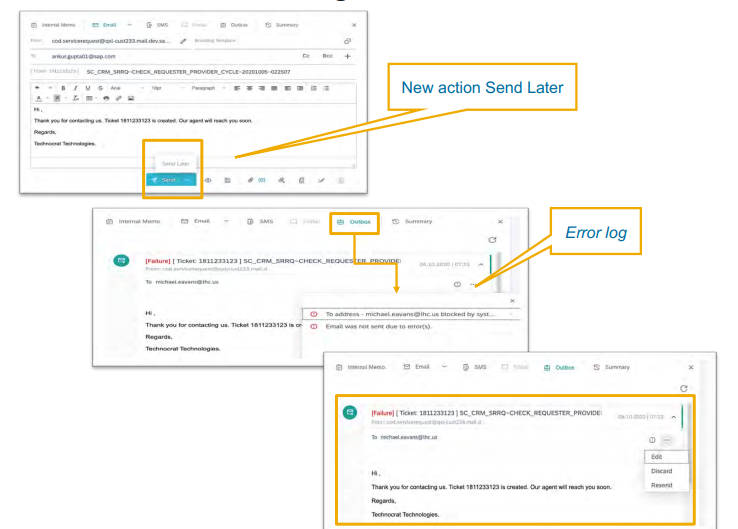 Originating address in Ticket OWL
Service agents don't need to open the ticket and look at the interactions to identify the originating email address.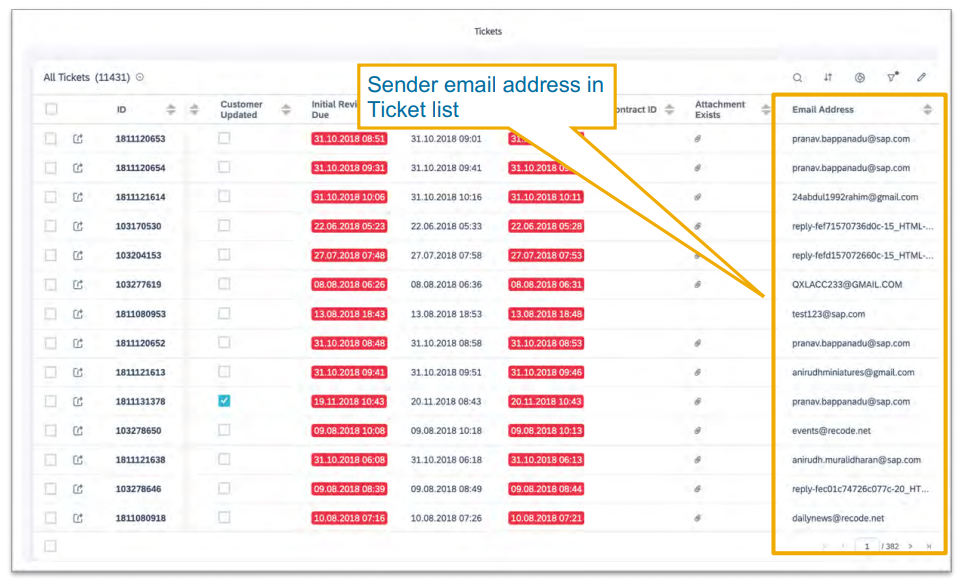 Service Management
Recalculation of Custom Milestones in SLA
Administrators can configure custom milestones within SLA setting.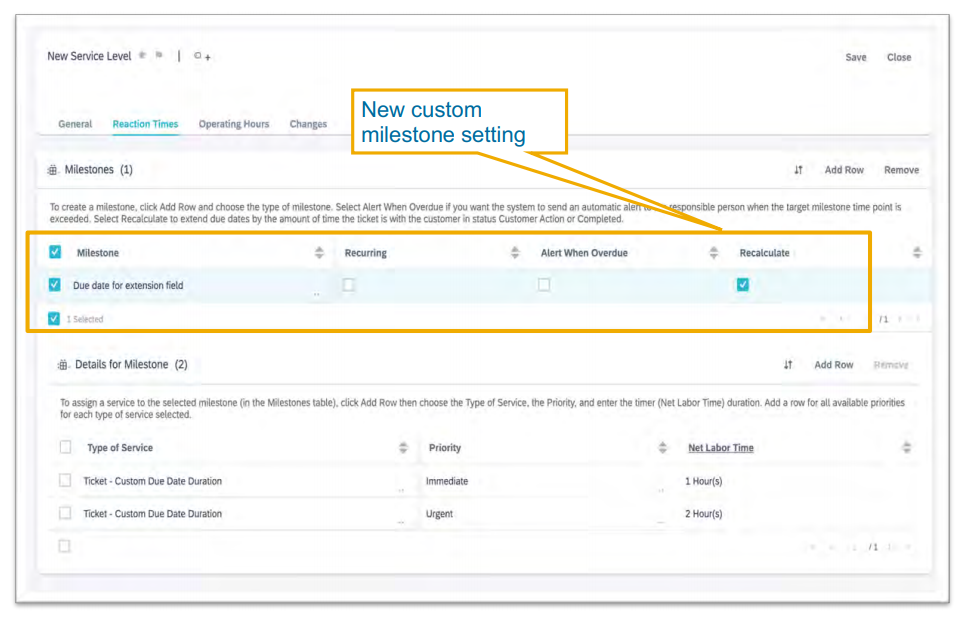 Copy functionality on Sub ticket to include copy of Ticket Parent ID
Copy functionality on sub ticket level can now be configured to include copying of Ticket Parent ID so that the new ticket is also included while viewing in the Hierarchy View.

 
E-mail Interaction Summarization (beta)
Agents can create a synopsis/summary of all the email interactions for a service ticket. This feature improves the productivity of the agent by providing summary of the past email conversations of the ticket. In addition, supervisors can easily access to a summary of all the email interactions between agent and customer/employees.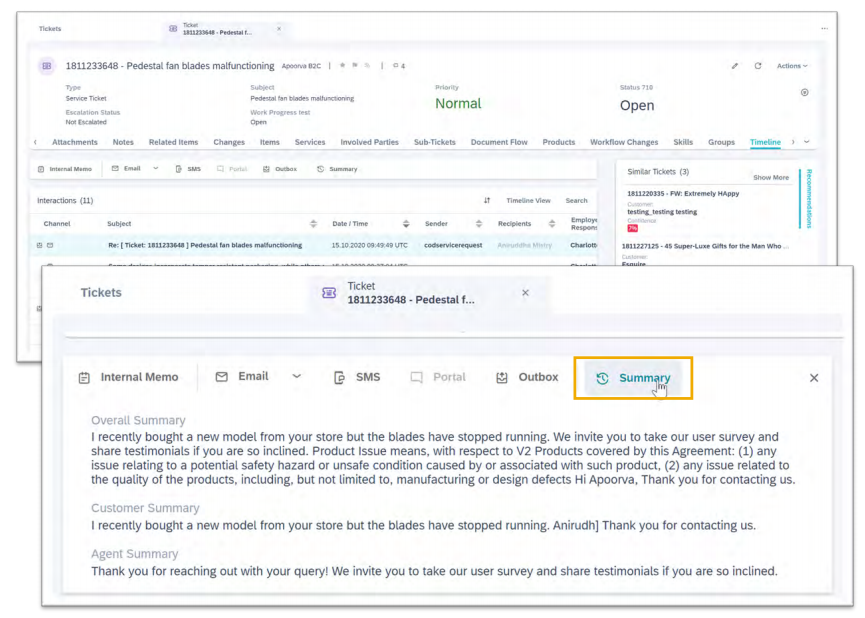 For more detail on the complete release briefing you can check out the What's new in SAP Cloud for Customer table.
---
---
Check our Success Stories: